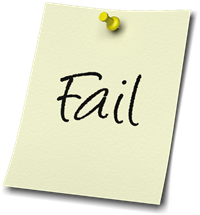 Writers, being artsy types, require a certain level of emotional availability to render characters that seem real and relatable. That emotional availability can be difficult to turn on and off as we please or ought.
We invest a lot of ourselves into our books, and it can be hard to take when someone leaves a negative review. I know authors who fixate on a single one-star review out of fifty overwhelmingly positive reviews.
They over-analyze it, they dissect it, they obsess over it. Sometimes, it only takes that one dim little star to fill them with so much self-doubt and recrimination that they proclaim to the world that they give up. This is called a doubtburst. Okay, it's not called a doubtburst. I just made that up, but I like it.
We're supposed to draw from a deep emotional well so we can bring a tear to a reader's eye when we write about the difficulties of being a sparkly werewolf, but we are supposed to be iron-skinned when a review calls our beloved sparkly werewolf stupid. That's a tall order. But that's real life. Writers need coping strategies for dealing with unfavorable reviews.
1. Ask yourself if there is some truth in the review
Sometimes good medicine can be hard to take. If the customer just did not like the book, that's one thing. On the other hand, if the review points out plot holes, typos, grammatical issues, formatting problems, or anything that is correctable, you just struck oil. Yeah, the drill might have gone through your foot, but you can address all those issues with corrective action that will prevent further reviews of that nature.
Now, here is a tip: if the review points out some of these issues, don't just correct the specific examples they cite, re-visit the whole book to make sure there aren't any more. Making mistakes is okay – failing to learn from those mistakes is not.
It is a tremendous advantage in today's publishing environment that we can fix problems of this sort on the fly. We don't have to ask a publisher to recall a 50,000 book print run.
Fixing a correctable issue will make you feel better than wringing your hands and hoping none of the other readers care as much about that stuff.
2. Weighting the review
Recognize that all reviews are not equal in terms of importance. A review from an actual review site carries more weight than a review from your mom – no offense to your mom. However, real review sites don't hand out five-star reviews hand-over-fist. Three or four stars from someone like Big Al's Books and Pals is worth celebrating.
3. Getting perspective
If a book is reviewed by enough readers, it will eventually get some bad reviews. This is true of all books. However much you love your book, it will not be an exception to this rule. It is important to understand that not everybody likes the same thing, and that's actually good.
Remember that those who are willing to write the reviews may not accurately reflect a representative sample of the entirety of your target readership. It doesn't mean the silent majority didn't enjoy your book.
Most importantly, remember to look at what happens after your bad review. Did your book magically disappear from Amazon? Did sales plummet on this breaking news? Of course not. Your book soldiers on, and so must you.
Things NOT to do:
Do NOT attempt to engage a reviewer over a poor review. Trying to defend your book makes you seem, well, defensive.
Do NOT run around the internet whining that some reviewer was mean or unfair. You won't come off looking good.
Do NOT cut yourself off from every person who gives your book a bad review. Concentrate on winning them back with the next book.
Do NOT let one bad review overshadow every good review you've gotten.
If you want tranquility, quit publishing your work. Putting a book out into the world means staying on tenterhooks and sometimes being disappointed at the reception you get. Learn from the experience and move forward.