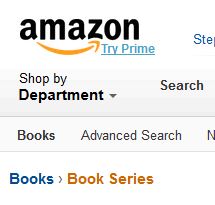 Last year, Smashwords introduced a neat tool called Series Manager which allows authors to link books in the same series together for better discoverability. Well guess what? Amazon has now done the same thing. Supposedly. But not quite. Frankly – not at all.
To be perfectly honest, Smashwords outguns Amazon with this feature – by a longshot. I'll explain why in a minute. Let's get down to the nitty gritty first.
Unfortunately, there is a catch, the same as with Smashwords. If you have books that are in a series which are both self-published and published through a press (which uses a different KDP account), you cannot link those together yourself. You can only link the books under your control through your KDP account. To do that, go to your KDP Bookshelf (dashboard)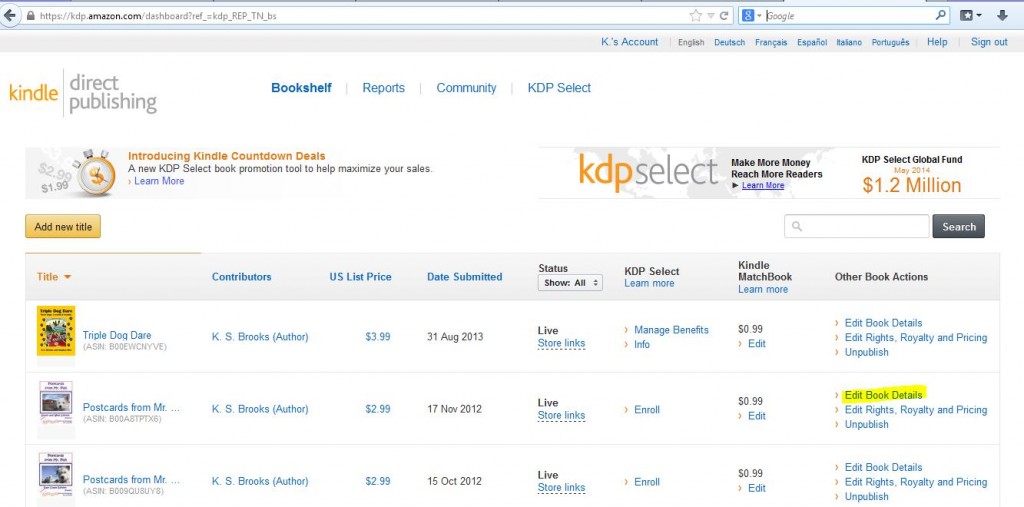 Click "Edit Book Details" on the right-hand side (highlighted in yellow). On the next page, you will need to enter the title and series information: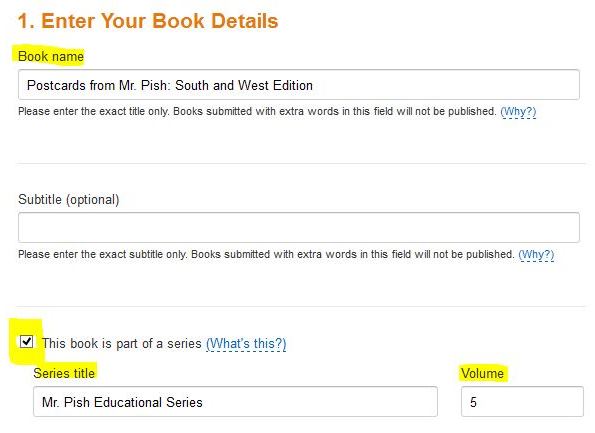 If you haven't already done this (I did them when I initially published the books, so mine were already in there), you will have to hit the "Save and Publish" button again. HOWEVER – be forewarned – make sure that your book's descriptions and categories are how you want them to appear on your book's page. Lately I've heard that republishing a book wipes out whatever changes you made to the book's description via Author Central. We have no idea why this is suddenly happening.
Once all your books are done, you would expect to be able to go to your series' page and look at it, so you could share the link with potential readers, right? WRONG. Guess again. Guess ten times, if you want. I'm fairly disgusted with this whole endeavor.
If you search on your books by the series name, sure, they'll come up. But search results do not provide a valid permalink and sharing that will eventually result in an "Oops, we can't find what you're looking for." That's happened to me before. Here are my search results: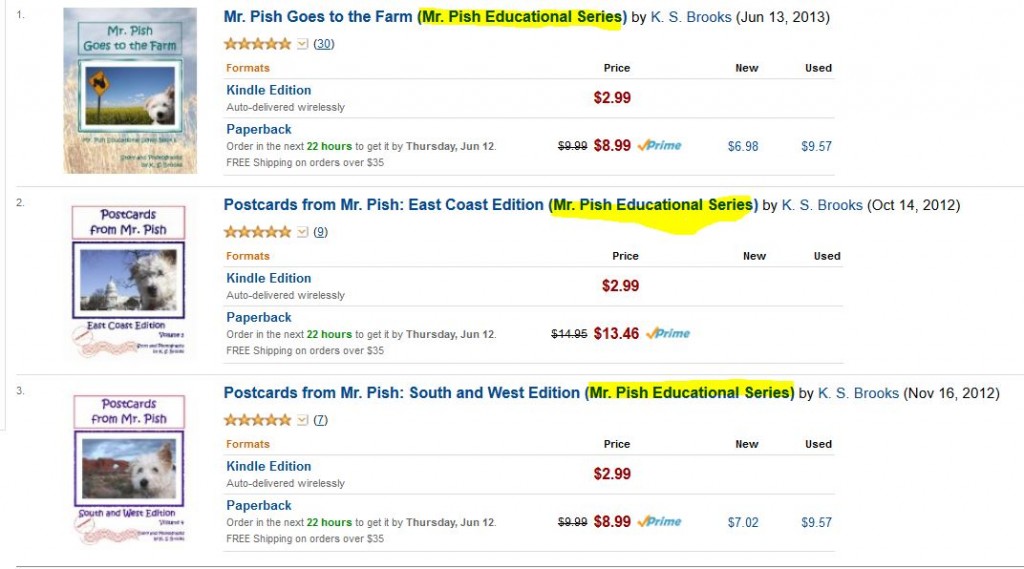 You can see the series name highlighted in yellow. So, where's the series page? Well, without Mr. Dick Waters, I never would have even known where to look. But – don't get your hopes up – it doesn't exist. You will need to prove that, however, to ask customer service to add your series to the "series directory."
From pretty much anywhere on Amazon.com, find "Books" in the nav bar and click on that. (See below.)

That will take you to a massive home page for books. No, you won't find your series there. Scroll down the left-hand sidebar. Keep scrolling, and scrolling, and scrolling until you get to the "Refine by" heading. Then scroll some more. Stop when you get to Book Series. Then click on "see more" (see below).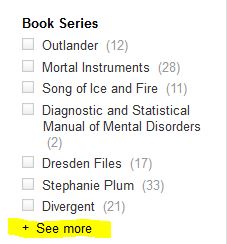 Not impressed so far? *cough* Anyway, you will be brought to this ugly page listing every single series name. Let's check for the "Mr. Pish Educational Series" since we know that exists, or is at least supposed to. Scrollin' scrollin' scrollin' – everybody sing! (By the way, I tried to use the search function at the top of the page but nothing happened. Perhaps you will have better luck.)

As you can see, Mr. Pish's series is not listed. So, I contacted Customer Service via live chat. The woman I chatted with was excellent, but told me that she would have to refer the inquiry to KDP. She filled out their form, and this morning I received an email from them containing instructions less detailed than the ones I've provided above (i.e. how to add your series name in KDP – eyeroll). Competely useless. I've been working on this tutorial for over a month now. Clearly it's not going so well.
Dick Waters had better luck with customer service. They made his page for him, and added it to the ginormous listing page. If you scroll down on that page, you will find his Scott Tucker series.

If you click on that, you will see what a series page is supposed to look like: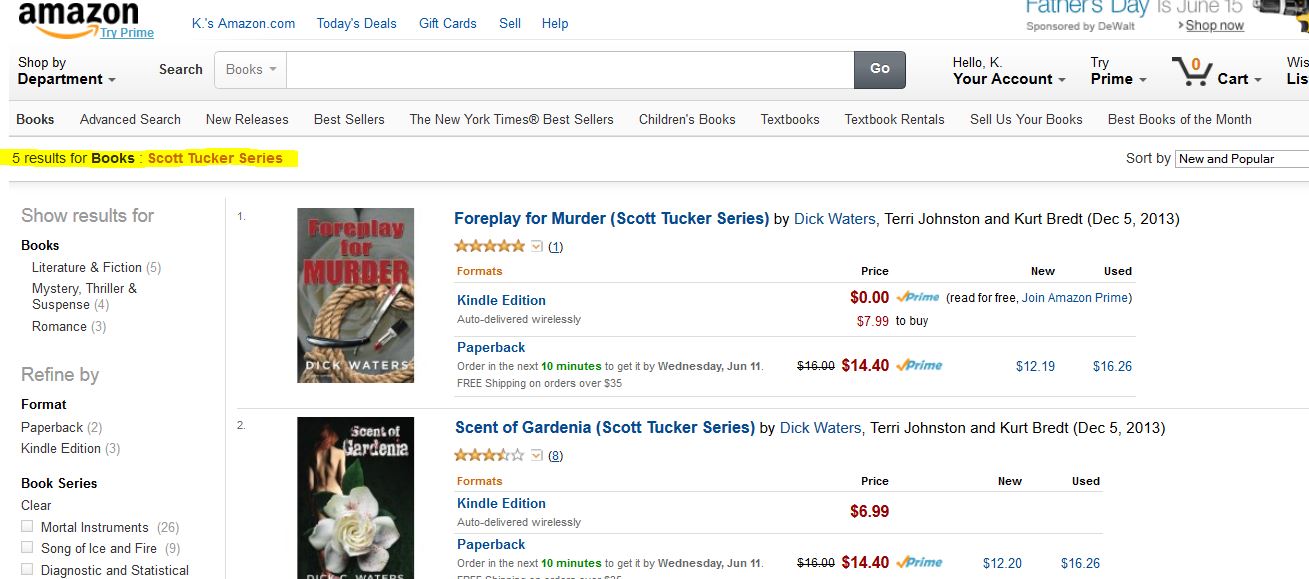 They tell you how many books are in the series in the top left (highlighted) and then you can peruse the entire series. The link to a series page is ugly for certain: http://www.amazon.com/s/ref=sr_in_-2_p_lbr_books_series_b_6041?rh=n%3A283155%2Cp_lbr_books_series_browse-bin%3AScott+Tucker+Series&bbn=283155&ie=UTF8&qid=1402406522&rnid=3275128011, however, it should serve as a permalink that you can monetize. Should. And you can use the Amazon monetizing tools to change the link to appear as text, so that should solve that problem. Should.
Want to check Amazon's series listing to see if yours is included? Instead of going through the rigamarole above, here's the direct link: http://www.amazon.com/gp/search/other/ref=lp_283155_sa_p_lbr_books_series_b?rh=n%3A283155&bbn=283155&pickerToList=lbr_books_series_browse-bin&ie=UTF8&qid=1402406302.
I really had high hopes for this program, but it doesn't seem that it's going to be more user-friendly any time soon.
UPDATE: Literally two minutes ago I received this email from KDP Customer Support:
Hello,
I hope you're having a great day! Thanks for reaching out to KDP Support and providing me the opportunity to help you.
I understand that you wanted your 3 titles of the series "Mr. Pish educational series" to be in the series landing page In order to solve your problem, I manually did this for you, you can verify this at the following link:
http://www.amazon.com/gp/bookseries/B00KWBJJ0O
In order to find your series you must paste the ASIN of "Mr. Pish educational series" which is B00KWBJJ0O; at the end of this URL: http://www.amazon.com/gp/bookseries/PASTEHERE.
You might want to know that a series page displays all of your books within a series in order by volume number on Amazon.c . This improves the discoverability of all the books in your series by showing customers who click on the series page all the books part of that series. Series pages are currently only available on Amazon.com.
In case you need anything else, do not hesitate to contact us back, we are here to help and we will gladly assist you.
I hope truly this helps! Thanks for using Amazon KDP.