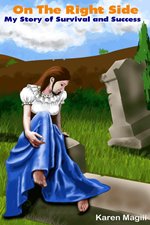 On The Right Side: My Story of Survival and Success
by Karen Magill
biography, memoir
Available from Amazon.
When Karen Magill woke to find herself partially paralyzed on one side of her body, she began a journey filled with twists and turns. From the diagnosis of multiple sclerosis to becoming an award-winning novelist, On The Right Side shows that a crisis can be a blessing.