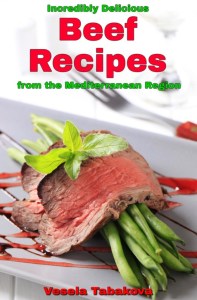 Incredibly Delicious Beef Recipes from the Mediterranean Region
by Vesela Tabakova
From the author of the Healthy Cookbook Series comes a great new collection of recipes. Incredibly Delicious Beef Recipes from the Mediterranean Region contains 52 beef salad, soup and main dish recipes that can be prepared even by inexperienced cooks. Eating the way people in the Mediterranean has been proven to greatly improve health, reducing the risks of developing high blood pressure, high cholesterol, or becoming obese.
If you need a simple recipe for dinner tonight – try these aromatic beef recipes. They will impress your family, guests, and best of all, they are healthy and usually all done in one dish.
Incredibly Delicious Beef Recipes from the Mediterranean Region is available through Amazon.com and Amazon UK.
Potato Moussaka:
Ingredients:
1 lb ground beef
1 celery rib, finely chopped
1 carrot, peeled, finely chopped
1 onion, finely chopped
2 garlic cloves, crushed
1 cup canned tomatoes, drained, diced
5 potatoes, cut into 1/4 inch cubes
1/2 cup fresh parsley leaves, finely cut
3 tbsp olive oil
1 tbsp summer savory
1 tsp paprika
2/3 cup yogurt
1 egg, lightly beaten
salt and freshly ground black pepper
Directions:
Heat half the oil in a large frying pan over medium-high heat. Add the ground meat and cook, stirring, using a spoon to break up lumps, for 5 minutes or until it changes color. Transfer to a large baking dish.
Heat the remaining oil in the same pan. Add the carrot, onion, garlic, parsley, paprika and summer savory and sauté, stirring, for 10 minutes, or until vegetables soften. Transfer to the baking dish and mix well with ground meat.
Wash, peel, and cut into small 1/4 inch cubes the potatoes. Stir potatoes into the meat and the vegetable mixture. Combine very well, add 1/2 cup of water, stir again and bake in a preheated to 350 F oven for 30 minutes, or until potatoes are cooked through. In a small bowl, mix together the yogurt and egg, pour and spread it evenly over the Moussaka. Bake for 5 more minutes or until golden. Set aside for five minutes and serve with a dollop of yogurt.
Serves 4