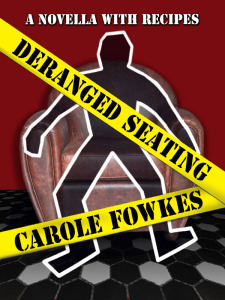 Deranged Seating
by Carole Fowkes
Genre: Science Fiction/Mystery
19,700 words
In James's fantasy life, he's a hard-boiled private detective whose internal monologue sounds like a Mickey Spillane movie. In the actual world, he is a bright young man, bored and stifled by his job as a society page reporter. That is, until his assignment at a high-society fitness party gets him involved with massage therapist Courtney, a good-looking dame with a tough problem. A healthy man dies in her massage chair and she can't explain it. Despite warnings to leave it alone, James starts to investigate. This leads him to Lester, a wisecracking old-timer who recalls a friend who died in a similar way. Others die and the bodies are piling up. But there's no explanation, at least not if you're from this Earth.
Deranged Seating is available at Amazon.com, Barnes & Noble, and Amazon UK.
Carol, how did you come up with the title for your book? Does it have any special meaning?
I wanted to link the chairs with something abnormal, thus the title was born.
Who was your favorite character and why?
Lester, the cynical, old-time reporter is my favorite. I like how he makes wisecracks about James's earnestness, but underneath his crustiness, he's got a big, brave heart.
Does your book have any underlying theme, message, or moral?
Only to be careful where you sit.
What would/could a reader or reviewer say about this book that shows they "get" you as an author?
The reader or reviewer finds the take-offs on sci-fi and mystery noir humorous.
Give us an excerpted quote from your favorite review of this book:
"Deranged Seating was an incredibly entertaining read…A first-rate book, chocolate- cherry muffins…it doesn't get any better than that."
Where can people learn more about your writing?
http://carolefowkes.com/