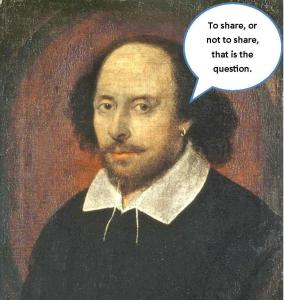 I have never read a blog post where Stephen King claimed to sell 20,000 e-books in a week. Nor have I read a post where Nora Roberts reported selling 37,000 e-books and hitting number one in seven of Amazon's sub categories. I did not read any of those things. But, I did post that I had 30,000 freeloads over a three day period. And, when one of my novels hit #46 overall a couple of months ago I shared that too. Amazon even mentioned my earning numbers a couple of years back in one of their press releases. And I've posted when I've hit the top rankings too, and if I make the Movers and Shakers or Hot New Releases list I post that information. Because you guys all want to know. You have to know. Don't you?
I'm wondering if perhaps we've hit the "enough already" threshold. It just might be too much. As professional, independently published authors we've helped create a world where readers can come and enjoy quality literature. We're not trying to emulate the traditionally published world or copy it, and most of us have become immune to the opinions that are tossed over the wall from time to time. This is a good thing. My connection with my readers is the only thing that's truly important to me. I write stories so that they will be read. And, that's what I've always done. Even back in grade school as others nervously avoided having their fiction read in class, I couldn't wait to hear my name called. I'm a writer and I need readers to read my work. But, I don't remember walking through the halls of the school telling everyone that twenty-seven students clapped after the teacher had read my story about the boy and his red balloon.
I publish my own work, so I need to seek out those sometimes elusive readers before I can engage with them. This requires some marketing skill. I've begun to wonder if it requires sharing numbers too, though. I've been on a bit of a speaking frenzy over the past few weeks; I've had the honor of giving talks at libraries and writers festivals all over my little corner of the world. At each one I attempted to illustrate that I was indeed an author who is widely read, and I shared some numbers. I spoke of a recent milestone where I sold 2,500 e-books in one day. There were a few positive reactions but I think if I'd said 5,000 or 10,000 the reactions would have been the same. It didn't matter. The other platforms where I spout out numbers are Facebook, LinkedIn, and Twitter, because that's where I connect with my readers. I wonder if anyone truly cares, though. As all authors know, Amazon is a site full of lists. There are the overall bestseller rankings, the bestseller rankings within your categories, as well as the aforementioned Hot New Releases and Movers and Shakers lists. In order to draw attention to my work and find some of the momentum that we all crave in terms of consistent sales, I screenshot my accomplishments and post them on Facebook or tweet them. My hope is that readers will see those posts and decide to check out my books. I know that this does indeed work. I've had readers who are friends of friends on Facebook post within my thread thanking me for alerting them. So, bragging that I've hit the lists, attainable as they sometimes are, is perhaps acceptable? After all, it's an independent source that shows reader interest in our work.
I think I'll stick with posting that I've hit the lists, but I may eliminate the brags (note that I'm 'fessing up and calling it what it really is) about the numbers. It's a little too late for my book – How I Sold 30,000 eBooks on Amazon's Kindle… That book is published and updated, and is selling well. And, I did not re-title the book when my sales numbers increased (especially in light of the ever-growing number of authors who have sold over one million eBooks). So, I'm stuck with those numbers, but maybe it's time to tone down or even eliminate the posts where I detail all of the numbers. Maybe it shows a lack of professionalism. And again, I don't want to be them; I just wonder if talking about numbers is truly necessary.