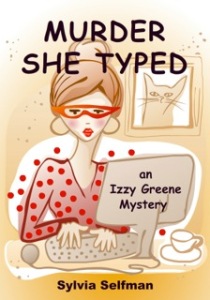 Murder She Typed
by Sylvia Selfman
Genre: Cozy Mystery
Izzy Greene, a widow of a certain age, joins a writing group in an attempt to actually finish one of her stories. She gets more than she bargained for, however, when her nemesis, sexy blonde bombshell Sondra Sockerman, disappears under suspicious circumstances. Izzy soon realizes that she has a natural detecting ability as she and her friend, Flo, set out to find the killer…who is now after them.
Murder She Typed is available at Amazon.com and Amazon UK.
Sylvia, how did you come up with the title for your book? Does it have any special meaning?
I always enjoyed the Murder She Wrote TV series. When I came up with the idea of the Izzy Greene series about an amateur sleuth of a 'certain' age who belongs to a writing group, the title Murder She Typed seemed a natural.
Who was your favorite character and why?
I love all my characters but Izzy's my favorite. She's a widow who values true friendship, loves sweets, has crushes, and often puts both 'feet in her mouth.' She's a dreamer and a realist. She's tough yet vulnerable. And above all she has a sense of humor, though it's often inadvertent.  And when things don't work out as planned, she manages to pick herself up and start over.
Does your book have any underlying theme, message, or moral?
There is life after fifty. And yes, a sense of humor helps.
What would/could a reader or reviewer say about this book that shows they "get" you as an author?
When a reader writes that she/he loves, likes or identifies with Izzy or wants her as a best friend, I am heartened. I feel I've managed to show Izzy as the complete person, warts and all, that she is.
Give us an excerpted quote from your favorite review of this book:
"This book was delightful! It was funny, insightful and a great who dunnit! …a terrific read!"
Where can people learn more about your writing?
http://www.amazon.com/Sylvia-Selfman/e/B00FNRXJQM/