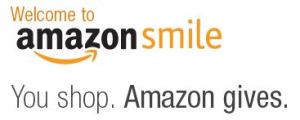 'Tis the season for drowning in red-and-green overload, moaning about nonstop Christmas music, and busting our budgets for stuff for ungrateful relatives who will be back at the mall on the 26th to exchange it for something else. (Surely you didn't think that only happened in your family.)
But there are ways to feel less Grinchy about the whole holiday shopping thing. Last year, Amazon launched a program called Amazon Smile, and anybody who shops at Amazon.com can register. The first thing you do is pick a charity – most 501(c)(3) organizations are eligible. Once you've done that, Amazon will donate one-half percent of the purchase price (less taxes, etc.) of most stuff you buy to that charity. You can change up your chosen charity whenever you want. And you still get all of the functionality of the regular Zon site, including your wish lists and gift registries.
Note that I said most stuff you buy. eBooks don't appear to be eligible. Neither are items bought through the Amazon app on your smartphone.
Also, the charity you choose must register with Amazon Smile before it can receive your donation. The AmazonSmile Foundation, which administers the program and doles out the donations, has some eligibility standards (i.e., it won't give money to groups that promote intolerance or engage in criminal acts). If you happen to run a charity (sorry, but your writing business doesn't count!), you can find out more about registering here.
If you're on the fence about shopping via Amazon Smile, don't bother doing it for the tax write-off. You can't get a deduction for your largesse, because you're not the one donating the money; instead, you're directing the Zon to donate some of its money to the organization of your choice. And it's not likely to be a lot of money. You'd have to spend $1,000 at Amazon to generate a $5 donation.
There's some evidence that people unconsciously use their participation in programs like AmazonSmile as a get-out-of-donating-free card. Even though nothing comes out of your own pocket, it feels like something does. So when the time comes to make an actual out-of-pocket donation to some worthy cause, you might be inclined to skip it, in the belief you already gave via Amazon. That skates pretty close to slacktivism territory.
Still, if you're going to shop at the Zon anyway, Amazon Smile is worth looking into. The Zon pays all administrative costs for the program, so your charity of choice will get the full donation. That's a good thing; the intertubes are rife with stories of scammy charity operators for whom that's not the case.
But if what you're after is meaningful support for your favorite organization, you'd be better off cutting out the middle man and sending a check. (Or, hey, you could drop a little cash in our tip jar over to the right.)