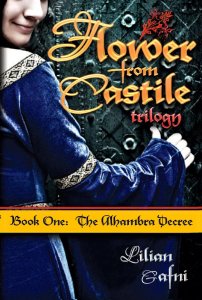 When sixteen-year-old Isabella Obrigon is kidnapped she vows to seek revenge upon her release from the Alhambra palace. Her kidnappers reveal that she is not of Spanish blood, but rather the child of a Jewish woman. Isabella is now marked by the Inquisition and must flee from Spain as decreed by the Spanish monarchs.
An encounter with the mysterious Miguel Costa who helps her escape, brings her to Cordova where the exodus march to leave Spain begins. Isabella must now decide whether to follow her heart and join her endangered brethren seeking exile, or stay and live a lie.
The Alhambra Decree: Flower from Castile Trilogy Book One, the historical fiction book by Lilian Gafni, is available from Amazon.com,  Amazon UK, and all major online retailers.

Don't forget, you can cast your vote for trailer of the month on December 27, 2014 at 1 p.m. Pacific time.