I am a heavy user of Facebook personally. I belong to a lot of writer groups, and several groups that allow book promotion (you post a spiffy description and link to your book — typically the Amazon link). Several authors I've encountered have expressed great disdain at these promo groups, saying they're a waste of time and filled with other authors posting promos, not real readers. The critics also argue that posting on these sites just clutters your news feed, showing your friends your crappy, lazy marketing efforts.
However, my newsfeed has been cluttered by several authors doing this, and to me, it seemed crazy that people would continue to do something that is completely ineffective. So, being the evidence monger that I am, I decided to conduct an experiment to see if these Facebook marketing posts actually work. My conclusion — sorry Charlie, I'm gonna make you read to the end to find out. Or maybe I'll tell you at some point before the end so you have to keep reading and can't just skip to the bottom (I'm laughing maniacally right now).
So, to start my experiment, I identified 16 Facebook groups that allow you to post a promo for your book (this is super important; DO NOT post promos in groups that don't allow it!). Some people post several posts to different groups all at the same time, and that really does clutter the newsfeed (you see 10 duplicate posts in a row from the person). Not wanting to do that, I decided to post to one group each day. That way I could determine if that particular post had an effect on sales. Then, I set up a spreadsheet and identified the group I posted in, the date I posted, the time I posted, the promo language I posted, whether the group was open or closed and then, finally the result.
A quick note about two of the data points I recorded. I included whether the group was open or closed because posts to closed groups do not show up in your newsfeed (unless your friend also belongs to that group). My thinking was that if I found any closed groups that got decent results, I would know I could post there more often without cluttering my newsfeed. Second, in the "result" column, I actually ended up recording two pieces of data, so I probably should've broken this into two data points. The two data points I recorded in the column were, the number of sales I had at the time I made the post followed by the number of sales that appeared within four hours of the post (on my KDP dashboard).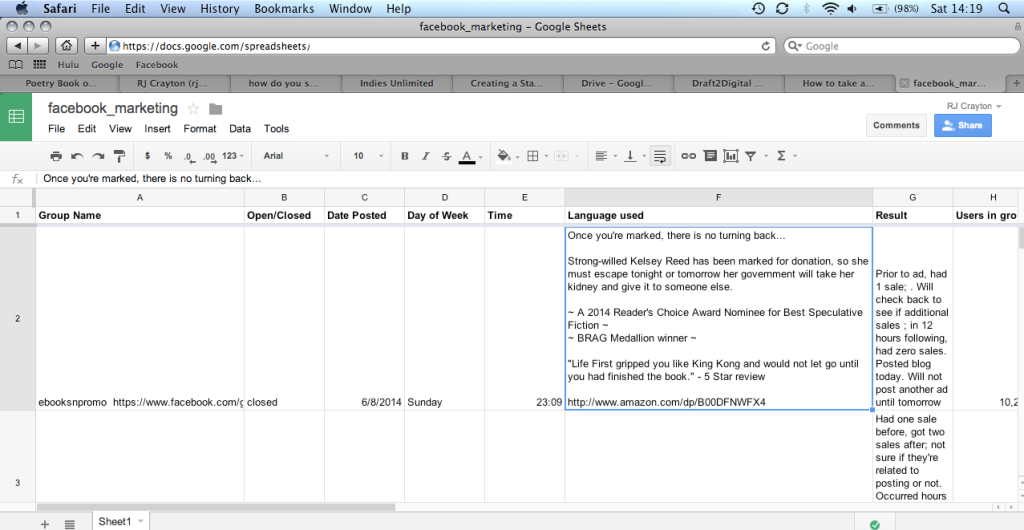 Now, I am not a scientist, so this experiment had too many variables for the results to be of much long-standing value to the community of writers. But, that wasn't my goal. My goal was to try to see what things worked, if anything. So, I did vary the times of day I posted, to see if I noticed a trend that I got better results posting at 3 pm instead of 10 pm, or something like that. However, to be more scientific, you'd probably want to do this longer, keeping the time element consistent for several weeks, then changing it and posting at the new time for several weeks. I decided to do no advertising whatsoever for my books during this period (other than the Facebook posts). I did continue my regular blogging schedule (Indies Unlimited and my personal blog), but didn't add any guest posts. I conducted my experiment between June 8 and July 17.
I posted to the following groups:
ebooksnpromo https://www.facebook.com/groups/eBooksBooksPromo/
BOOKS BOOKS N MORE BOOKS https://www.facebook.com/groups/320356974732142/
Authors, Reviewers, & Book Lovers/ https://www.facebook.com/groups/BooksLuvers/
BOOK PLACE https://www.facebook.com/groups/bookplace/
ALL ABOUT BOOKS https://www.facebook.com/groups/9476163038/
NOVELSPOT https://www.facebook.com/groups/NovelspotRecommendsbooks/
BOOKS GONE VIRAL https://www.facebook.com/groups/booksgoneviral/
INDIE AUTHOR GROUP https://www.facebook.com/groups/571135069563269/
PASSION for BOOKS https://www.facebook.com/groups/passionforbooks/
BOOK PROMOTIONS https://www.facebook.com/groups/623206594363552/
Kindel Mojo https://www.facebook.com/groups/kindlemojo/
ONLINE BOOK PUBLICITY GROUP https://www.facebook.com/groups/online.book.publicity/
BOOKS https://www.facebook.com/groups/books45/
KINDLE GOODREADS https://www.facebook.com/groups/kindle.goodreads/
PROMOTE YOUR BOOK https://www.facebook.com/groups/201856639887358/
2 FRIENDS PROMOTE YOUR BOOK WITH US (UK based) (https://www.facebook.com/groups/2friendspromatewithauthors/
What I found was that results were inconsistent. Some days I got sales after a post, other days I didn't. Some days I got a sale following a post, but not a sale for the book I posted about. About midway through I hypothesized I was doing better by posting in larger groups (those with 10,000 or more members), but when I went back and looked at the data over the course of the whole experiment, that didn't appear to hold true. At one point, it seemed that posting after 11 pm worked well (are those late night infomercial watchers book buyers, too?), so I tried doing posts mainly after 11 for a while and that didn't seem to produce results.
I gave up on my Facebook posting in July because I was posting consistently each day and not seeing sales as a result. Obviously, it wasn't arduous to copy and paste a post, but I was trying to finish a book and I just didn't have time to record the data for something that wasn't netting a lot of reward.
So, do the posts work? Sometimes. The problem is, I saw no consistency in it. However, to be fair, because this wasn't a true scientific experiment, I can't say these posts can't be used effectively in marketing. There were tons of variables at play. It could just be that I have a sucky blurb, and people with better blurbs do better. Or maybe readers who belong to these groups prefer romance or Christian fiction or zombies (and the book I was posting about was none of those genres). Also, I did these posts while my book was priced $2.99. Anecdotally speaking, in the past I've posted when my book was discounted to 99 cents and seen what appeared to be a related sale or two. However, my mini experiment didn't look at the impact a discount has on effectiveness of these posts (which may be crucial).
If you're interested in the effectiveness of posting in these groups, I'd definitely suggest you run your own experiment and see if you find the posting worth your time or not.