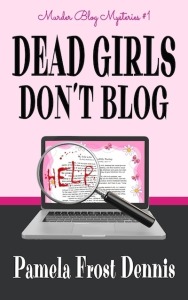 Dead Girls Don't Blog
by Pamela Frost Dennis
Genres: mystery, amateur sleuth
Available at Amazon.com and Amazon UK.
What would you do if your friend's murderer might get paroled?
After learning that the man who brutally raped and murdered her high school friend has an upcoming parole hearing, Katy McKenna sets out to make sure this doesn't happen, not realizing she might die trying.
Book Excerpt:
"Well look who's back."

Lifting my head to the voice shot piercing darts of pain through my head. A woman was kneeling in front of me, and there was a seeping, bloody gash across her cheek. It took a moment to connect the dots, and when I did, my terror ratcheted up several notches.

"What are you doing here?" I swallowed my ramping panic and spoke as softly as possible to avoid jarring my scrambled brain.

She pulled a chair up to me and sat. "You've been a naughty girl and I'm here to punish you." My skin crawled as she carefully looped the pink scarf around my neck. "There, now don't you look pretty?" She tilted her head and flashed a smile that didn't extend to her glassy, off-kilter eyes.

Was she going to strangle me again, only this time, finish the job?
What others are saying:
"Here's a toast to Pamela Frost Dennis for a delightful mystery read that left me with a smile on my face." – Claire, Amazon reviewer