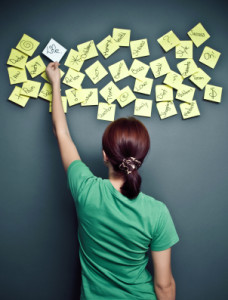 We've written plenty about the moving parts that need to fall into place when you launch your book. If you think that's a challenge, wait until you plan a promotion, especially a major one with multiple books or an event that involves multiple authors. Here are some things you'll want to check out before you promote your book.
Don't forget to lower your price. Sounds like a no-brainer, right? But it happens. We get busy with life and stuff and…bam. Once I pleaded for an open slot in a special promo on a major eBook advertiser's website and then completely spaced taking my price down to 99 cents like I'd promised. Ouch. I wasted thirty bucks and some goodwill with the advertiser, so that's one mistake I'll try hard not to make again. If your books are distributed through Smashwords, Draft2Digital, or individual online retailers, you'll need to do this manually. If you're on KDP Select, Amazon makes price changes a little easier. Just go to your info on the dashboard and select your free days or countdown dates. You still have to remember to do it, however.
Make sure your book's page hasn't gone wonky. Check your book's online page before your promotion starts — at least a week in advance, preferably two. Make sure you're still in the categories you're supposed to be in. I had a few nasty surprises over the years. I once found my "humor" in "horror" and a very not-YA book in YA. I'm still not sure how that happened. Check Author Central against your KDP dashboard to make sure nothing's gone sideways. If you've republished an eBook through KDP, your product description sometimes reverts to whatever you've used as a description in the KDP dashboard (despite having changed it at Author Central). Also, check your book's CreateSpace page: changes made in KDP or Author Central don't transfer over there.
Make sure your book is up to date. Have you updated your back matter to include new publications? Have you added a polite request for reviews? Is there a link to pre-order your next book? It's a good time to do that. And double-check the formatting before you publish. It's also worth asking a friend with an eReader to check the new version. Just to make sure the thousands of people who are about to download your book don't get a surprise — like an old version or wonky formatting.
Keep track of where you've submitted. With so many promotional websites employing online forms, it's easy to lose track of where you submitted…and sometimes, submitted again. I like to keep a spreadsheet of where I've applied, and I update it as I hear back from each advertiser. Not only does this give me a running tally of the dollars I've committed to, it gives me a reference for my next sale: sites that picked me up, sites that took a pass, which ones to possibly skip next time or try with a different title.
Put the sale dates on your calendar. Yes, it sounds dumb. But I've heard from plenty of authors who forgot about their scheduled freebies and had to scramble around getting eyeballs on them. You don't need the stress or the lost opportunities. It's also handy to use that calendar to keep of track of which promotional site will be featuring you when. Some advertisers will send you a heads-up email when you're about to run, but most don't. Calendar. It's a good thing.
Put the calendar somewhere you can see it. Must I explain?
Know the rules if you're doing a Kindle Countdown. They can be tricky.
Have all the information you need at your fingertips. I hate wasting time looking for things. You probably do, too. And you need so many bits and pieces before and during a promotion: links to books and social media, covers, descriptions of various lengths, tag lines, snippets from reviews, tweets you've drafted in advance (if you use Twitter and you haven't loaded them into a scheduling program like Hootsuite.) Here's how Kathy Rowe keeps her book details together. I like to keep mine in a Word document on my desktop. And in my Dropbox folder.
Make sure you'll have computer access during your promotion. Sounds like another "no kidding" item, but life happens. I had to travel during one promotion and made a pest of myself in various WiFi-enabled locations to do some social-media sharing and check my progress. This is another good reason to put your info into your Dropbox folder, so you can access it from anywhere.
Calendar. Have one.
Anything else you'd recommend?