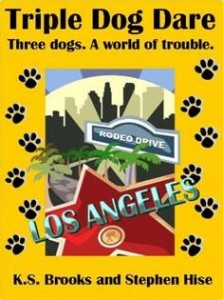 Triple Dog Dare
by K.S. Brooks and Stephen Hise
Genres: Chick-lit, humor, rom-com
Available at Amazon and Amazon UK.
Mayhem ensues when Stu, a wealthy dog breeder, is forced to retrieve a prize pup from the woman he secretly loves. But the dog has become a celebrity, and Stu's dream girl needs the pup to meet a publication deadline she was obligated to by her arrogant and controlling fiancé.
.
Excerpt
Terri then noticed Mike Gillette among the faces she knew. That ruthless little weasel. Terri now regretted her grubby attire. Dammit, Bianca, how can you be right so much of the time?! I should have listened to you.

Bianca, looking tall, splendid and lovely, beamed her million-watt smile as she fielded questions. Camera shutters were clicking away. Terri knew that Gillette would make certain to get a shot of her wearing her shapeless sweatshirt and baggy jeans, looking as sexy as a refrigerator.

Bastard! Terri started to fall in behind Bianca, thinking maybe she could just push past the feeding frenzy and meet Bianca on the other side. Maybe no one will notice me.

Bianca was about to remove her sunglasses when one of the reporters yelled, "There he is!" prompting everyone to turn away.

Seeing this as a chance to escape unwanted attention from Mike Gillette, Terri grabbed Bianca's elbow and began gently urging her away from the throng.
What others are saying:
"This book would be an entertaining and super funny movie. It was so enjoyable. It had me in stitches throughout.." – Mystie, Amazon Reviewer