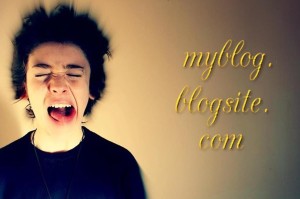 I'm half Czech. And Czechs are notoriously frugal (okay, fine – we're cheap!) as well as practical. So if there's an easy and inexpensive way to do something, I'm there.
That goes a long way toward explaining why I began my blogging career on Blogger. That is, this go-round of my blogging career began on Blogger. Many years ago, I started a blog on Earthlink's free platform. I think I made four posts over the course of several months before giving up.
Anyway, the point is that when I started blogging again, I knew that I wanted an inexpensive platform with a template that would be stupid easy to set up. In reading up on the subject, I learned I could go one of three ways for a professional-looking blog: I could get a free WordPress account; I could buy a domain and have somebody build me a website using a WordPress template, and park my blog there; or I could get a free account at Blogger. WordPress, even the free version, seemed to be overly complicated to me (and still does). The paid WordPress didn't seem cost-effective for an author who was just starting out; I didn't want to pour all of my meager earnings into a website when I could be using the money for other things.
Blogger had a friendly interface. It took me only a few minutes to customize the look of my blog. The whole thing just made sense to me. So I set myself up there, published my first post in August 2011, and have been blogging every week there (more or less) ever since. And when I created Rursday Reads as an offshoot of my main blog, I set that up at Blogger, too.
In short, I'm happy with Blogger. It meets my needs, and it's my favorite price. So what's the problem? The problem is that folks keep telling me I shouldn't be happy.
This blog post lists the most-often cited reasons I've heard for moving your blog to a website that you pay for – the bottom line being control. On Blogger (as well as on the free WordPress site), you must abide by their terms of service. That means if you want to post pornography, you need to include an "adult content" opt-in notice on your blog or Blogger will put one there for you. Blogger also reserves the right to pull down, without notice, any blog that violates their terms of service. (This actually happened to me when I started Rursday Reads. I had to convince them that I was running a review site and not a bookselling site. To Blogger's credit, they were very responsive, and my site was restored in a day or so.)
The thing is, I don't have a problem with any of that. I'm not interested in selling my books on my blog. In my mind, that's not what the blog is for. It's for talking to my readers. And I don't ever plan to post porn on my blog, so that shouldn't be a problem.
There's also the issue of "professional appearance," which I couldn't figure out for the longest time. I thought they meant the way the blog pages look. But no, they're talking about the URL. Apparently yourblog.blogspot.com or yourblog.wordpress.com doesn't look as professional to some people as yourname.com. This is something I have trouble getting worked up over – and anyway, Google is now selling custom domains for $12 a year (only in the US right now) that you can slap on any site, including your Blogger blog.
But the thing that really gets them going is that Google, which owns Blogger, could shut it down at any time. Which is, of course, true – any company can shut down at any time. Restaurants regularly go out of business. So do bookstores (ahem). Even your self-hosted site could go dark if your service provider goes out of business.
Google has owned and operated Blogger since 2003. If they shut it down, I'll move. Until then, I expect to keep doing the cheap and practical thing, and stay right where I am.