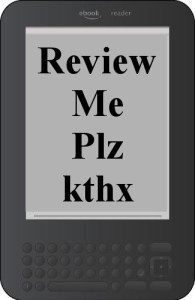 By L.A. Lewandowski, Laurie Boris & Lynne Cantwell
As authors, we all know book reviews are important for many reasons. They are also critical to readers when they visit our book's page. There are many ways to go about getting reviews, and read-and-review programs are one of them. These programs are technically not the same as getting a paid review. A paid review means a reader (or a publication) is receiving payment specifically to review your book. Yes, an author participating in a read-and-review program might be charged a fee, but that's generally for the website's administrative services. A read-and-review program offers readers a free copy of your book in exchange for an honest review, and they require that the reviewer include a statement to that effect in the review they post. In the case of Story Cartel, a little extra incentive is provided, but that's as a giveaway prize for readers who participate in the program—not direct payment for services.
---

I was convinced by romance author Jackie Weger to focus on pumping up the amount of reviews I had. I decided to try some review programs and offer them my most recent murder mystery, A Gourmet Demise: Murder in South Tampa.
The first review site I tried was Read Freely. They contacted me while they were still in beta, and after doing a little research, decided to send them a mobi file. I was promised between three to five reviews, which I received in a timely fashion. I found them to be professional in their follow-up and process, and would recommend Read Freely as a review site you should consider. My only concern was that the profiles of the reviewers were relatively new — I would not want a potential reader to think I paid for the reviews, or that they were sock puppets.
The second site I used was the Choosy Bookworm. I decided to try something different, and sent gift cards to the readers who requested my book. First, I reduced the price of my book to ninety-nine cents and sent personal messages to each reader. I kept a folder in my email so I could track the Amazon notifications as they were received and redeemed.
I'm not sure this is the best process as a variety of things occurred. One reader had no idea how to redeem the gift card for a book. A few gift cards were redeemed yet I saw no review. However, at last count I received over twenty reviews from this resource. Not all were four and five stars and this is a good thing. I believe it adds credibility to a book's page when a reader expresses an opinion or gives constructive criticism. I have not received lower than a three star rating even with the critical comments, and I am appreciative of that.
---

I began my adventures in read-and-review programs with Story Cartel. It seemed like a good idea at the time, and a couple of the IU minions were having some success with it. You give them copies of your eBook in a variety of formats. Then you plunk down your choice of incentive — cash, a gift card, or an inexpensive Kindle were the alternatives at the time — and those who review a free copy of your book by the deadline are entered into a drawing to win. I tried my luck with my contemporary novel Don't Tell Anyone, because it was newly released and I wanted to get more reviews. Out of the thirteen readers who grabbed a copy, I received one review — after the deadline. I didn't have to shell out for a giveaway, but I didn't get the results I wanted, either. I tried The Choosy Bookworm next, again offering up Don't Tell Anyone, and wow, it was like night and day. I kept getting email after email with new addresses of readers who wanted to review it, and I gifted copies straight from Amazon. It didn't take long to get the promised thirty readers, and most of those reviews were favorable. Then I tried running another contemporary novel, Playing Charlie Cool, with Choosy Bookworm. It was a little slower to move, but the reviewers were great. These reviews were not passes – they were definitely honest opinions, and I really appreciated that. As Lois mentioned, it can be good for a book to have more than just five- and four-star reviews.
My least-effective attempt was with Reading Deals. Another author mentioned it in a Facebook group, and I like to try new programs if someone else has been successful with them. I gave them a mobi file and paid a $30 "administrative fee" for 10 reviews; if you don't get readers biting after two or three months, they refund your money. Notice they don't guarantee any reviews during that time period — they just cover requests. The read-and-review offers are sent out in the website's newsletter. After no response for two weeks, I received an email that three readers had requested my book, but no reviews ever showed up. I still get that humiliating little email update every Friday that I have no reviews. I'm not sure if these were legitimate requests for my book or requests put in by the site owners to keep me from getting a refund, because my emails to them have gone unanswered. They do keep expectations low, though, and say that it could take months and you might not get any reviews at all. Probably won't be trying this one again.
---

Read-and-review programs are great – when they work. I've tried a couple that have already been mentioned above. Here's what I found.
I sent Seized to Story Cartel, after reading a starry-eyed post on the blog of an author I don't know personally. If memory serves, this author said she had received 50 reviews for her book by using their service. That sounded pretty good to me, so I bit. And my effort tanked. I think I only received two or three reviews out of the deal.
One problem I saw with the Story Cartel model was that authors are required to pony up prizes to draw reviewers. I offered $10 Amazon gift cards. Maybe I would have gotten more takers if I'd given away a Kindle. I dunno. Also, Story Cartel really pushed me to promote my book's availability. I'm skeptical about the effectiveness of that. I think most people have already tapped their own social network for reviews, and broadcasting that your book is available for free on Story Cartel probably does more to promote Story Cartel than it does your book.
In contrast (and in counterpoint to Laurie), I had a terrific experience with Reading Deals. I sent in my fee in late November for ten reviews for Seasons of the Fool. Almost immediately, I began getting bites, and by early February, I had all ten reviews. Three of them were 3 stars, but I don't personally have a problem with 3-star reviews. I've long since gotten over the notion that everybody is going to like my work. And as Lois said, lower-starred reviews seem to give a book listing credibility – like maybe the author didn't just ask his or her friends and relatives for help.
---
I guess maybe we could sum up our experiences by saying that with any read-and-review program, your mileage may vary. And don't expect 50 reviews from any one website, no matter what you've read online.