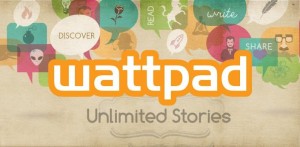 Just like the redheaded girl from science class, Wattpad often goes unnoticed, and is usually underestimated. Wattpad is a site where authors can post stories or segments of their stories and readers can read them and interact with the author. Currently it's one of the top one thousand most viewed websites in the U.S. and is in the top fifteen hundred worldwide (according to Alexa). Those are exceptionally impressive rankings. The site boasts thirty-five million readers, and because Wattpad is mobile-friendly, most readers are reading on their portable devices. Although Young Adult releases seem to be their most popular categories, there is serious traffic in all genres.
It's simple and free to upload your work to Wattpad.  No royalties are paid as it's a free site for readers too. Recently some very exciting developments have taken place in Wattpad-Land. While many of us run Kindle Countdown Deals and look for the next promotional site that's going to help us achieve momentary glory (and a few sales) at the top of the Amazon pile, some authors have found a different way of advancing their careers. Although none of us has time to devote to yet another site where we might interact with readers, you may want to check out Wattpad once you hear some of these success stories.
Last year, Wattpad signed an agreement with a company in the Philippines to publish Filipino stories. This led to the creation of a television series. Wattpad Presents showcases stories that were originally released on Wattpad. Several other TV programs and miniseries have also been produced in the Philippines that originated from work uploaded to the site. Some of these shows are doing very well, so chances are this will lead to more adaptations and hopefully not just from the Philippines.
Goodreads is a site that helps expose our work to readers, but the line where authors interact with readers is a bit blurry sometimes due to their rules. With Wattpad it's fairly straightforward. They allow readers and authors to participate in discussions about the author's work, and readers can even vote on what they've read. Many authors have released their work and garnered hundreds of thousands of Wattpad followers in their community. The trick is to turn those followers into loyal readers who will help advance their careers. This has happened, and often in unconventional ways. Dianne Greenlay, author of the Quintspinner series of novels, attracted the attention of a Hollywood agent due to her Wattpad exposure. Negotiations are continuing as she hopes to bring her series to the big screen. Without the 800,000 views of her work and the support of her Wattpad followers, this opportunity may never have happened.
Twenty-five year-old Anna Todd took it one step further. Anna didn't think she was a writer, but she knew she could tell a story. Utilizing Wattpad, she wrote a serialized adventure that involved her favorite rock star. Anna's story has been viewed over one billion times by Wattpaders. Yes, one billion views. From this exposure she attracted interest from the traditional publishing community. After a bidding war, Simon and Schuster swooped her up and signed her to a contract. Anna's books are now available and are doing quite well. Oh, and Paramount has purchased the rights to After, the book that was originally released on Wattpad.
Both Anna and Dianne's books were serialized in chapters, or groups of chapters, and released over a period of time. Readers stayed tuned in. They requested to be alerted when new material was published and participated in discussions in the author's community. Anna was unpublished at the time, but Dianne's books were available on Amazon, and continued to sell even though segments were available for free.
As authors, especially self-employed, self-published authors, it's important that we concentrate not only on exposure, but also on developing a following. Wattpad can be one of the most efficient ways of connecting with readers and expanding our support base. We often talk about having a game plan in order to reach that next level of success. You may want to incorporate Wattpad into your game plan. It's not only a method of connecting with and receiving input from readers, it might even lead to an opportunity that we never could have imagined. Just ask Anna Todd or Dianne Greenlay. Or, go check out the redheaded girl from science class and see how she's doing today. I bet you'll be surprised.