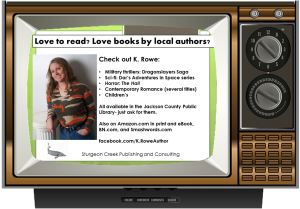 Once in a while you just have to stick your neck out there and do something a bit insane. I'd never even thought about advertising on television. What Indie author makes enough scratch to have commercials? It turns out, $40 will get you a month's worth of air time — your ad being viewed three to five times an hour.
How? Well, it's not national TV I can assure you. I live in the middle of nowhere. We have a cooperative that handles phone, TV, and internet. They have their channel which airs local programming. Much of it is devoted to public notices, school advisories, church adverts, birthday wishes, and other items of interest.
Since moving to a rural area, I've tried to figure out how to reach folks to let them know there's a new author in town. The local newspapers haven't been too helpful. Yeah, I got my photo in there a couple of times simply because they were covering author events at the library. But it wasn't getting the word out. The local library did a lovely display of my books — which did generate some new readers, but the bulk of the population doesn't always go to the library.
I was talking with a friend one day and he said our TV provider did fairly inexpensive ads. He wasn't sure how much, but it wasn't a lot. Definitely intrigued, I contacted the company and received and email from a lady who informed me that the ads were $10 a week. Wow, TV ads that fit my meager budget! I immediately said "I do" and made up a PowerPoint slide for them to broadcast. I also mentioned that I had at one time contacted the magazine they put out to possibly be interviewed, but never heard back.
What lovely luck. The lady handling my ad just happened to speak to someone at the magazine, and I got an email asking me if I wanted to do an interview. Heck yeah! I was now on the road to being discovered by over 18,000 people. I'll be featured in a glossy magazine, and have my face plastered on TV for 15 seconds a few times an hour.
Will this work? As with any advertising campaign, it's a shot in the dark. With the TV ad, I'm not pushing sales of books up front; I'm trying to direct folks to the library to check them out. I have a blurb on where to buy my books, but it's not center stage.
For the magazine, I'm going to try and focus a little differently. I want local residents to know I'm not just an author, but a farmer as well. Experience has taught me to relate to the masses. Much of my area is farmland. We grow hay and have poultry, hence, we are farmers too. Granted we're "outsiders" to the county, but I always give the impression that we're doing our best to fit in. Lots of people around here hunt, so my TV ad has me wearing a fashion camouflage shirt. Do I hunt? Usually only varmint hunting to protect our poultry.
My ace in the hole happens to be a friend and neighbor. He works at the library. That's one good thing about rural living; you get to know your neighbors really well — especially when their cow is in your front yard at 11 o'clock at night! I asked him if there is a way to track which books got checked out over a 1 month period. He said there was. So at the end of the month of advertising blitz, I'll join him at the library to see if anyone checked out my books.
Overall, I don't expect huge success from this campaign. But I also haven't invested a lot of money. If 20 percent of the population of a three-county area at least read the magazine article, or happen across the TV advert, and then seek out my books, I'd consider that success. Country folk are a hard sell for anything, and with everyone being busy, many don't have time to read. And money is even tighter, so I'd be thrilled if they went to the library and checked out the books. It's not so much about sales as it is about gaining local exposure.
So we shall see where the dominos fall in this experiment…