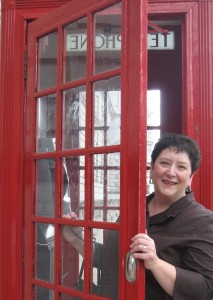 Guest post
By Karen Wojcik Berner
Over the last few years, I've promoted my books with blog tours – six of them, to be exact – and let me tell you, each was completely different in both style and reach. Never done a blog tour?  They're the virtual equivalent of the traditional book tour, except authors "visit" book blogs instead of stores to promote their novels. They are great for boosting your book's visibility as well as for getting reviews. In fact, I just completed two consecutive blog tours to promote my latest novel, A Groovy Kind of Love. If you're considering a blog tour, here are some things I've learned along the way that you might find helpful.
Which Company Should You Use?
There are many promotional book tour companies. Do your homework. Research the sites to ensure their credibility. Check into them on sites like Preditors and Editors. Tour services usually have on-going book tour pages. Look at those. Do they promote books in your genre? How many people follow  the blogs on their tour stops? What is their Alexa rating or number of social media followers? It will do you no good to be on blogs that a) cater to the wrong genres or b) have no audience.
What Kind of Tours Are Best?
Book tours can range from $50 to in the thousands depending on what you choose. I've done each price level at least once and found that the mid-to lower-price levels worked better for my novels. The higher-priced, supposedly high-exposure tours that targeted book sellers, librarians, and book clubs didn't really do much for me. I think those markets are looking for authors with name recognition, something many of us indies don't quite have yet.
Determine what kind of book tour you'd like and for how long. Ten days? Two weeks? A month? Just reviews? Spotlights? Cover reveal? Do you want to write guest posts and do interviews?
There are various packages offered:  just reviews, or spotlights, with or without book excerpts, or high-traffic industry newsletters. Be careful which choice you make. One tour I did a few years back was all guest posts and interviews with original content at each stop. I ended up writing twelve different posts in two weeks. On the upside, I got to add all of those to my clip list on my website. Thank goodness I worked in magazines before I had children and was used to deadlines! If you have trouble writing a ton of blog posts, opt for spotlights or reviews only.
Giveaways: Yea or Nay?
Blog tour coordinators can organize a giveaway to run in conjunction with your tour to drum up more interest. Let's face it. Everyone loves something for free. Although the tour hosts usually handle the giveaways, sometimes it's up to you to decide what the prize will be. It's been my experience that you should offer something like a gift card for Amazon or Barnes and Noble, rather than copies of the book you're plugging. Seems to me, book giveaways discourage people from buying your new novel in hopes of winning it for free. By giving an Amazon gift card, you're encouraging them to buy books with their winnings, maybe even yours.
Giveaways also provide a chance to build your newsletter subscriber list, as well as social media followers by giving extra entries to those who follow you on Twitter, for example, or subscribe to your newsletter. My newsletter subscriber list significantly increased after the tours and less than 1% unsubscribed after the giveaway was over.
The Benefits of Hiring a Company
Hiring a blog tour company meant I didn't have to research all the blogs. The tour company paired me with ones they thought would work best for my books. They set up the schedule. You get Twitter and social media mentions every day of the tour, and you're not the one doing it first. All you have to do is hit "retweet." The Google search profile increases daily for your new book.
Negatives?
Remember, book tours don't always translate into immediate sales. They are all about exposure, so don't get discouraged if you don't see an immediate spike in sales.
Ready for a Tour?
Before you go on tour, make sure your website, blog, etc., are all up to date with the latest information on you and your new book. Don't forget to change the "Coming Soon" over your new release to "Now Available." You'd be surprised how many people don't remember that. Add fresh blog content. Make sure to put a Goodreads link so people can easily add your book to their To-Read list. Also, confirm that all of your purchase links work.
If you don't have a mobile version of your website and/or blog, create one. Some sites, like Blogger, automatically convert to mobile versions. Some don't. IPage is my website provider, and it has a handy tool to create the mobile site. It takes an hour or less and is definitely worth it.
Don't forget to visit the various tour stops on the day your book is featured to thank the host for having you and to respond to any comments. It's a great way to connect with readers.
Bottom Line
Blog tours are valuable aspects of your overall marketing plan. Choosing the correct one can raise your online profile, garner reviews, and gain new readers, including the book bloggers themselves. I met some of my biggest supporters through these tours and some wonderful new friends as well.
---
Karen Wojcik Berner writes contemporary women's fiction, including the Amazon best-selling series, the Bibliophiles. An award-winning journalist, her work has appeared in countless magazines, newspapers, and blogs. To learn more about Karen, please visit her website and her Author Central page.