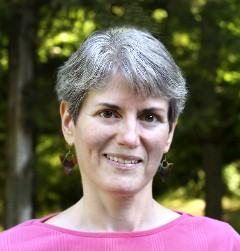 When I tell people I ghostwrite, I usually get the same two questions.
First: "What are you working on?" To which I respond, "I'd tell you, but then I'd have to kill you."
Second: "Don't you want credit for your work?"
Not especially. I'm getting paid to do something I love. It keeps me in organic produce, which makes me happy. If I do a good job, I might be hired again, so I can buy more organic produce, which will make me happier. Besides, the writing I do under my own name give me gratification and portfolio to spare.
So what makes a good ghostwriter?
Discretion. Nobody likes a ghostwriter who blabs, whether it's about the potential bestseller he or she is writing for Wicked Big Celebrity or that the President of the Acme Company doesn't write the folksy sales letters that go out bearing his name. Don't blow your credibility. I've been in "black ops" so many times I could probably get a security clearance from the CIA. In the spirit of confidentiality, your client may ask you to sign a (creatively named) Confidentiality or Non-Disclosure Agreement. It's not meant to suggest you can't be trusted. It's a legal agreement designed to protect both of you and the work. And speaking of agreements…
Get a good agreement. In writing. To find work, you can wave your shingle in front of publishers, who sometimes hire ghostwriters to clean up manuscripts or augment the output of popular authors. But I hunt for ghostwriting gigs over the Internet, via Craig's List, freelance job forums, or sites like Elance and oDesk. Good news: I don't have to put on makeup. Bad news: it's easier than ever to get ripped off. Clients worry about this, too. Get a written agreement that spells out the payment process, mutual expectations, and working procedures. Will the client supply the outline or will you? Are you responsible for the research, the editing, the proofreading? Will your ghostwriterly duties end when you send the final manuscript to the client, or are you expected to do rewrites through the publication process? It may take a few meetings, but working out details before you start can save potential problems on both sides. Think about it: What happens if your client kills the project? Or if she goes Nora Roberts and you've made no provision for a cut of the sales? And about payment…
Know what you're getting into. Some unscrupulous ghost-hunters merely offer a cut of the royalties, claiming their idea will be the next Hunger Games and you'll all soon be stupidly rich. Sure, this could motivate you to do a kick-ass job. But what if the book doesn't sell? What if the publisher goes under? This is why many ghosts go for a per-project rate.
A flexible writing style. I was hired to "ghost edit" a children's story that a publisher had translated into English. The writer was very well known in his field. My edits had to keep in line with the author's voice, or his legions of fans (and the author) would know something strange was going on. Or perhaps you're writing the CEO's blog for the company website. You'll need to write in his or her style, comfortably.
Flexibility with content. One day you might be ghostwriting a zombie autopsy manual. Another day it could be an article about the mating habits of the Madagascar hissing cockroach. Although expertise helps, you don't need to know everything about everything. That's what Google is for. You need the patience and curiosity to do the research and the mental flexibility to change topics. Yes, you could specialize, and many writers are very successful at this, but in a tight economy you may want to be more open-minded.
A collaborative spirit. Some clients want you to write the whole shebang on your own, but most of the time, ghostwriting is a team sport. This may mean you'll review and contribute to a client's outline or write a rough draft and submit it for revisions. It may take time to develop a collaborative relationship with a client, but this is vital if you hope to turn it into a long-term proposition. If you can't take constructive criticism or don't play well with others, perhaps ghostwriting isn't for you.
Professionalism. This includes all the stuff you're supposed to do as an independent contractor. Stick to your agreements. Communicate well. Meet your deadlines. Meet your deadlines. And most importantly, meet your deadlines.
*     *     *     *     *
Laurie Boris is an author, freelance writer, editor, blogger, and proofreader. The Joke's on Me is her first novel. She lives in New York's Hudson Valley with her husband, Paul Blumstein, a commercial illustrator who provided the art for the book's cover. You can learn more about Laurie on her website.[subscribe2]