Today we're pleased to announce the winner of the seventh weekly Flash Fiction (formerly known as Writing Exercise) competition at Indies Unlimited.
The winning entry is rewarded with a special feature here today (which is cool as the other side of a pillow), and a place in our collection of winners which will be published as an e-book at year end.
The 17 entrants received a total of 80 votes. With 48% of those, the winner is: Contestant #5– Dianna Stover.
Congratulations to Dianna, and thanks to everyone who participated – excellent entries! Now, without further ado, (release doves) here's the winning entry: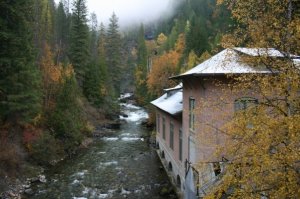 Remorse
by Dianna Stover
Looking through the pages of her dad's album, Jackie sighed when her eyes settled on the picture. Within an instant she was back on that bridge, looking down on the rocky stream, trying to reason with her father. She could almost hear the whooshing sound of the water again as it flowed across the rocks.
She had to admit, nestled in the foothills of the Smokey Mountains, the old abandoned mill was the perfect spot for a Bed and Breakfast, and as a bonus for the guests, would have its own Winery. But Jackie had worried that running such an establishment would require more than her dad could endure. A seventy year old man should be retiring with less responsibility, not more!
She removed the picture with growing sadness and wished she would have handled the whole thing differently. In spite of her discouraging words, she loved him. She hoped he had known that.
"I don't need you!" he had argued, "I can do this myself!" His pride dug in and he was not to be doubted. The haunting image resurfaced. Her dad turned in anger and slipped between the rails to his death on the rocks below.
Jackie felt the burden of grief weigh on her heart as she looked upon her dad's marker. Clutching the picture she retrieved from his album, she placed it purposefully at its base and wept.
"I got it for you dad" she whispered softly, "Heaven's Door is now open for business."
[subscribe2]