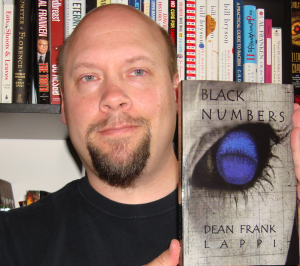 To outline, or not to outline, that is the question
When I've been interviewed, one of the common questions I get is – what type of writer am I? When starting a new book, do I plan it out with a full outline or do I just let it flow to see where the story takes me.
I think most writers fall into one of these two categories. For my first novel, I definitely was the second type. I came up with the basic idea of my fantasy novel Black Numbers, which was – what if magic was created through advanced mathematics instead of spells? I started writing and the book came to life as I wrote each chapter. I just seemed to be along for the ride.
I am just wrapping up the sequel called BLOOD NUMBERS. Since it was a sequel, I figured I could just let the ideas flow as I wrote each chapter. I mean, it worked perfectly well for my first book. But a strange thing happened this time around. Book two ended up being a larger story, with a half dozen new characters and storylines that all intertwined. I made it to chapter 38 before I found myself slowing down, unsure of where to go next with the story to ensure that every storyline came together properly. It was then that I realized what I needed to do. I had to create an outline.
What?
I shook my own head at the silliness of that idea. I was, after all, 66,000 words into the book. Wasn't it too late to create an outline now? I tried writing some more but struggled. My mind was filled with the story but everything seemed to be disconnected.
So I sat down one day last week and outlined the whole book. It seemed counter-intuitive to do it this way, after completing at least 66% of the book already. It also seemed a waste of time to be working on the outline when I COULD be finishing the book.
But something amazing happened. After I completed the outline, not only was I able to easily see the entire flow of the book, I realized that I had let myself get carried away with the new characters, and let some of my original characters languish. It was shocking because I didn't even realize that I had been doing this.
So, I ended up outlining twelve new chapters that I added between chapters 1 – 38 to even out the storyline. While I was doing this, I came up with new ideas for how to finish the book, so I outlined eight new chapters that led to a satisfying conclusion.
By creating this outline, I was able to see EXACTLY what I needed to write. It breathed new life into the novel and I got excited all over again. I sat down and wrote 29,400 words in the following four days. It was like I couldn't type quickly enough.
This brings me back to that standard interview question of whether I outline my book or let the book just flow. I can honestly say that my methods have morphed into a combination of these two now. While I am not sure if I will create an outline before I begin my third novel, I have gained a great respect for the outline method and fully plan to use one at some point in my next book.
Hopefully it will be before chapter 38 this time.
Dean Frank Lappi is the author of the horror/fantasy novel BLACK NUMBERS, which is published through Fantasy Island Book Publishing. BLOOD NUMBERS, book two in the Numbers series, will be published in May or June of 2012. He will immediately begin work on book three, as yet untitled, which he hopes to publish in May of 2013.
Dean has a Master of Arts degree in English, and he works for one of the largest companies in the world as a Web Content Manager. Dean is originally from Northern Minnesota, and now lives with his wife in the Minneapolis area. Find Dean on Facebook and follow him on Twitter.
[subscribe2]