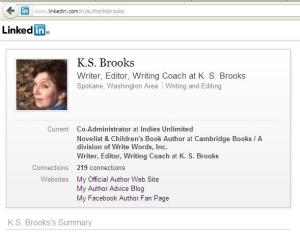 This past Sunday, Rosanne Dingli explained why authors and businesspeople should be on LinkedIn.  You can read her article here. Once you're on LinkedIn, there are a couple of things you can do to get better exposure. The method many people agree has the most impact is the "links" section.
In the screen capture to the left, you can see at the very bottom there is a heading called "Websites." This is where LinkedIn allows you to supply a maximum of three external links. Many people just put in their http address and leave it at that. But LinkedIn allows you to do something even better – actually describe where the link goes – so there isn't a bunch of ugly html sitting on your profile and people have a clue what they're clicking.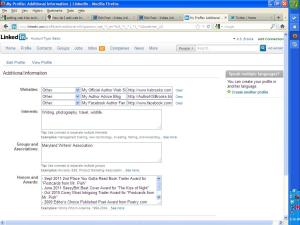 How does one do this, you ask?  Hmmm…okay, I'll fess up. It's really quite easy. At the top of the screen, mouse over Profile. A drop-down menu will appear – click on Edit Profile. Scroll down to Additional Information and click edit. That will bring up the screen to the right. Select "Other" from the drop-down menu on the left. That will allow you to customize the description of your web link in the center box. Use all three if you can – that will get you the most exposure.  Scroll down to the bottom of the screen and click "Save Changes" when you're done.
But don't stop there. Make sure to add everything you can to your profile – skills,  jobs, etc. – because this makes it easier for people to find you.
You can even add your own books to your reading list. If your book is on Amazon.com, use the "Reading List" application.  We can do a tutorial on that feature some other time, if there's enough interest.
Now get to spiffying up your profiles – because tomorrow we're going to share them during a LinkedIn Love-fest!
*     *     *     *     *
K.S. Brooks is an award-winning author and photographer, and Co-Administrator of Indies Unlimited. For more information, please see the IU Bio page and her web site: http://www.ksbrooks.com/[subscribe2]