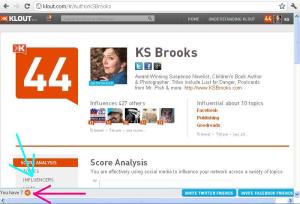 Let me start off by saying I am not an expert in Klout. In fact, the more I look at it, the more I question its usefulness. That is my personal observation and does not necessarily reflect the opinion of IU Management, if they in fact have one. Anyone feeling differently is welcome to educate me in the comment section below.
This past Saturday, our Jim Devitt wrote an informative post about Klout. If you missed it, you can read it here. Jim did a great job covering the basics, so I'm not going to go over those again.  I will give you, however a couple of tips on how to give someone a +K rating, and how to list them as an "influencer."
Our tech support guru and all around good guy – author KD Rush – helped me figure out how to give someone a +K rating. So let's get started. First, of course, you need to log in to your account at Klout.com.  Before you go nuts giving a +K vote to everything in sight, you should check your +K balance. You are allotted a certain number of votes depending on your activities. I received 5 votes just for logging in this morning. You can find your balance down in the bottom left-hand corner of your screen (see pink arrow in above photo).
The easiest way to give someone a +K  is to click on your Influencers tab (aqua arrow in photo above). That will bring up a list of people who either influence you, or are influenced by you. If the person you would like to give Klout to is not on either list, you can perform a search for them and add them as an influencer. Back at your list, you will see their top 3 topics of influence next to their name. Just click the +K beside one of those topics and you're done! A little window will come up so you can tweet or announce on Facebook that you've +K'd them. Whether you spread that word or not is up to you. Now, if you don't agree with those top three topics, you can click on the person's name and that will take you to their profile page. There you will see all their topics and you can go down that list to +K them on whatever you deem appropriate.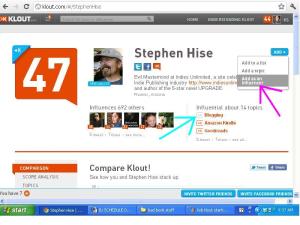 If you want to add someone as an influencer, you can do that from their profile. Again, to get there, you find the person and click on their name or photo. Once you're at their profile, in the top right-hand corner, you will see a blue button that says "Add." Click on that and a drop-down list will appear. (See photo to left – pink arrow.) Click on "add as an influencer" – it's a good way to make your boss happy! And you'll notice that I've given the Evil Mastermind a +K vote for blogging – you can tell because that is no longer a clickable option (see the aqua arrow).
So, that's it. Does Klout really carry any clout? I can't answer that. I can tell you that it's a nice way to show someone you appreciate their work in a certain area. A +K is like a shout-out or a thumbs up or a pat on the back. It's also a good way to kiss up to the boss.
*     *     *     *     *
K.S. Brooks is an award-winning author and photographer, and Co-Administrator of Indies Unlimited. For more information, please see the IU Bio page and her web site: http://www.ksbrooks.com/[subscribe2]