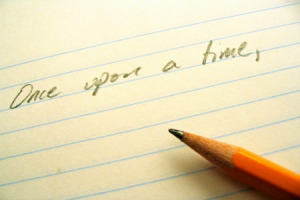 Last week we talked about backstory, how much is too much and nifty ways to use it. What about a prologue? Should you have one? Is it a great way to lay down a lot of background up front? Or will readers just buzz past it to get to Chapter One? Does all that backstory make my butt look big? No. Don't answer that one.
However, there is no right or wrong answer about prologues. There is only Elmore Leonard and he is to blame. Well, not really. But that's what happens when a popular author does something relatively bold – starts in the meat of the action and is successful at it – that gets writers thinking they have to do the same thing and readers thinking that most stories should start in the middle of a hostage situation.
Basically, prologues work when they work and don't work when they don't work.
Yeah, I hate that answer, too. I really wish I could be more definitive. It's a problem I have. But I can tell you about an instance where a prologue worked, and worked so beautifully, that I don't think the book would have been as good without it.
It was from The Lions of al-Rassan by Guy Gavriel Kay. This epic historical fantasy, set on the Iberian peninsula in a fictionalized empire resembling medieval Spain, was told mainly from the perspectives of three main characters: a Christian soldier, a Muslim nobleman, and female Jewish doctor. The fictionalized sects they represent exist side by side until a series of events begins a violent upheaval that tears the empire, and the lives of the three now-entwined main characters, apart.
The prologue Kay includes is short – not even two pages – but in a few exquisite paragraphs, he describes the act of treachery that would become the catalyst of destruction.
Here's the opening sentence:
"It was just past midday, not long before the third summons to prayer, that Ammar ibn Khairan passed through the Gate of the Bells and entered the palace of Al-Fontina in Silvenes to kill the last of the khalifs of Al-Rassan."
Not only does Kay spin out a clear, tense scene with his prologue, leading up to the murder, he gives the background needed to better understand the fabric of the story, which starts years later.
Some might say to ditch a prologue like this. Start in the middle of things, where we meet the Jewish doctor and begin to tell the main tale. Okay, Ammar ibn Khairan killed someone. So why not tell it at some slow moment later on? Reveal his motives for the assassination, building him up as an empathetic character? But it just wouldn't work the same way. Not only does the scene lay the groundwork for the major conflict, the reader needs to know Ammar committed the murder because the other characters only suspect him of some earlier misdeeds. Cue the reader in on the action, and let him or her feel in some way smarter than the characters, and you've got a pretty good hook.
Plus, there's much more information to absorb later on. Which is why prologues often work better in sweeping, complex epics than in, say, romantic comedies where the stories tend to be more linear. Sometimes you can't tell if a prologue works until you get input from your beta readers. If you're not sure, try taking it off before you ask a reader for feedback.
What do you think? Do you like reading prologues, or do you skip ahead? If you write books with prologues, when do you find they work best? Have you ever removed or added one, and found your story "read" better?
*     *     *     *     *
Laurie Boris is a freelance writer, editor, proofreader, and former graphic designer. Her first novel, The Joke's on Me, was published through small press 4RV Publishing, LLC in 2011. Her second, Drawing Breath, is now available. She lives in New York's lovely Hudson Valley with her very patient husband, Paul Blumstein, a commercial illustrator. Learn more about Laurie at http://laurieboris.com and her Amazon author page.