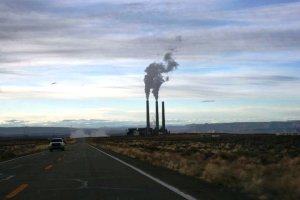 I could see the cooling towers ahead. I had made it to within sight of my objective, but I was not undetected. I saw the unmarked white security truck barreling toward my position.
I didn't know whether they'd just turn me back or take me in for questioning. Maybe they'd shoot first and ask questions later.
I had passed several sets of warning signs, proceeding onward against my better judgment, but I had to know. Like everyone else, I'd knew the "official" story. I'd also heard some wild rumors, but something drove me to find out what goes on back here. I have to know for myself, see with my own eyes what they do at Indies Unlimited.
In 250 words or less, tell me a story incorporating the elements in the picture. The 250 word limit will be strictly enforced.
Please keep language and subject matter to a PG-13 level.
Use the comment section below to submit your entry. Entries will be accepted until 5:00 PM Pacific Daylight Time on Tuesday, October 9th 2012.
On Wednesday morning, we will open voting to the public with an online poll for the best writing entry accompanying the photo. Voting will be open until 5:00 PM Thursday.
On Friday morning, the winner will be recognized as we post the winning entry along with the picture as a feature. Best of luck to you all in your writing!
Entries only in the comment section. Other comments will be deleted.