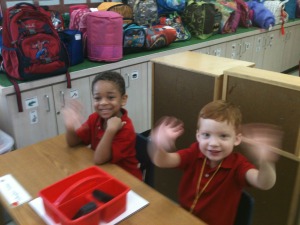 So many different gimmicks out there are supposed to make your social media marketing easier. Many times, they just become a time-suck. Twitter is one of those invaluable tools, you can't live with it and you can't live without it. When I look at the statistics on my blog, Twitter is the number one referrer to my site. With that being said, it's very difficult to monitor Twitter beyond the e-mails that you receive that tell you that you have a new follower.
How many of you know who your top supporters are in your Twitter community? How about the top influencers?
We've covered tools like HootSuite and Tweetdeck in the past and you can see that here. I believe those are wonderful tools, I use them myself. I want to share with you something that I've been using recently that actually reduces the amount of time that I have to be on Twitter.
Commun.it is one of the best relationship management tools available. It allows you to isolate your followers that are engaging with you, providing a tiered system of followers based on their activity and mentions. Finally, I've found a tool to do more in less time.
It works like this, your followers are broken down into three categories: Top Influencers (highest number of followers), Top Supporters (people who talk about you the most) and engaged Twitter users (ones that you've talked the most to in the past three days or week.)
If I want to give a shout out to my top followers, I click the link for top high value members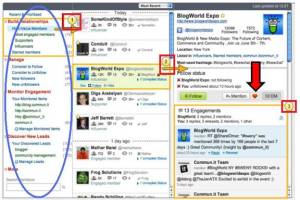 (1) then click their picture (2), and then click the heart (3) and out pops a tweet, all ready to go—easy and fast. The best part is, you don't have to search for the top people, it finds them for you and away you go.
You can do similar things with new followers or your top supporters; it's all right there at your fingertips on your dashboard. This way, you don't become a responder all the time, you actually become the initiator. People love random mentions about themselves.
Another neat tool is the "Monitor Engagement" tool. While we have other tools that can follow hashtags and such, this tool allows you to monitor conversation about any keyword, regardless of hashtags.
Let's say you want to see who's talking about service dogs. Not everyone that communicates via Twitter #'s everything, you can pick up a lot more conversation about your topic this way.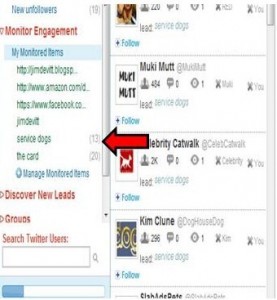 Plug in service dogs and up pops over a dozen Twitter handles that have talked about service dogs today. If I were Krista Tibbs (of Indies Unlimited fame), who has just released a book of short stories (one is about a service dog) then she would instantly have a bunch more people to follow and potentially buy her new book, Reflections and Tails. In addition, I can see there are 20 people talking about The Card at this time. Play with the different key words and even put website links in to see who's talking about your stuff.
Go ahead, try it out and let me know what you think. There's a free option as well as paid versions that allow you to handle more options. If you are looking for a quick and easy way to track and respond to your best Twitter followers, you can't go wrong with Commun.it.