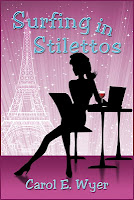 The most fabulous Carol Wyer invites you to the launch party for the eBook version of her latest hilarious novel, Surfing in Stilettos.
Here is what our own Cathy Speight had to say in her review of Surfing in Stilettos:
"Carol is a wonderful writer – she throws humour, intelligence, poignancy, thoughtfulness, and entertainment into a pot and the result is an original, funny, witty, and refreshing novel." (See the entire review HERE.)
Scoot on over to Carol's blog to win some cool prizes and to wish her well. Gift-giving season approaches—you might as well pick up a few copies while you're there. You gotta know a fistful of folks who'll love this one.
This title is available in print or Kindle editions from Amazon US and Amazon UK.