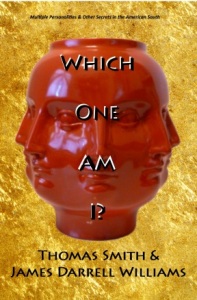 Today, we feature a sneak peek of the memoir, Which One Am I?, by Thomas Smith and James Darrell Williams.
There are at least 16 personalities inside James Darrell Williams. But who is he really? And why? Which One Am I? is a singular story about universal truths, horrors and grace. Setting their work apart from other memoirs, the authors explore the nature of family and how Darrell – and all of us — are shaped by culture, history and geography. Darrell and his partner Thomas Smith dug into family secrets, Southern culture and Darrell's own psyche to explore portrayals of Dissociative Identity Disorder (DID) in culture and psychiatry, linking them with the events that made Darrell the man he is.
Which One Am I? is available through Amazon.com and Amazon UK for kindle and in print.
Here is an excerpt from Which One Am I?:
–1 –
R.D.
It was a shame what Carolyn did to that man. It was bad enough that she went and fooled around on R.D., but then she listened to Bertha Merriman and named that baby of hers after that no good James Darrell Jackson! What would people say? They would think R.D. was less than a man, that's what they'd say. That is, if they ever found out the truth. R.D. wasn't about to let anybody know, not while he was alive and sure not while that boy was still breathing.
As far as anybody knew – as far as he knew – James Darrell Williams was the youngest of five. The Williams family always called him James, a name he came to detest as it was usually followed by an accusation of something he was supposed to have done. After he got big enough and far enough away from his tormentors, he'd always call himself Darrell.
Years would pass before anybody would tell him who his father was. At the time of Darrell's birth, R.D. was making what living he could working odd jobs for his good friend and next door neighbor Gene Merriman. Only a teen himself, R.D. worked in the rice fields until Gene took him under his wing and taught him to drive a bulldozer. Until her accident, Darrell's mother Carolyn worked in one of the small town's factories making shirts.
The Williams were barely adults when they got together. Richard Williams, who always called himself R.D., was just 17. That's him in the photos on Darrell's bookcase, all sinew and swagger. With his father's farm fanning out behind him, the dark-haired youth stares down the camera, daring it to show that he wouldn't be the world's best husband and father if given half the chance. He is every inch the proud young man.
Off his shoulder is Carolyn. She was just 14 when they hooked up, not nearly as self-assured as R.D., but still trying to portray the proper lady in a pleated skirt fashionable for its place if not its time. Change her hair from brown to blond and she'd look just like she did the day she died.
Those who knew the Colemans always said that Carolyn was the prettiest of the girls. She had the looks and figure that could attract a husband or two. A dark-headed Sandra Dee, there was something darkly mysterious hidden behind her innocent appearance.
She has clear, determined, blue eyes that stare straight out from under hair done up for the occasion in a flawless bouffant. It's a picture of someone who doesn't want her picture taken, doesn't want to be frozen in time with these kids and this man. She looks past the camera, focusing on something off in the distance that no one else can see.
---