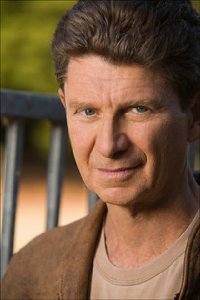 Paul Levine is one of my recently acquired tastes. He's another one of those lawyers who started writing best-sellers just to piss us all off. Hey, do us writers start trying cases? But he won me over with a single title: Habeas Porpoise. You gotta love that.
And many love his two main series, Lassiter and Solomon & Lord. Lassiter is the slap-happy attorney who wouldn't know what to do with an ambulance if he caught it, but can stipulate the wisecracks and rough stuff, Solomon and Lord are sort of odd-couple "Moonlighting" match-up of two counselors most unlikely to form a partnership. But a lot of fun. I really like the sloppy, always-in-danger-of-being-disbarred-and-unfriended heroes in both series, and envy the way he can juggle three or four storylines, each one always hanging its butt over a cliff as we segue to one of the other scenarios.
And those series are in addition to single-title thrillers like Impact and Paydirt. Oh, and his TV writing career, including twenty episodes of "J.A.G." Up in the top crust of legal and thrill writers, and praised by others in that elite. Beyond crass sales figures, he's been a nominee for Edgar, Thriller, Macavity, and (check this out) James Thurber awards, and winner of one dear to my heart, the John D. MacDonald prize. And he continues to produce. Lassiter recent appeared in a new book after a fourteen year hiatus.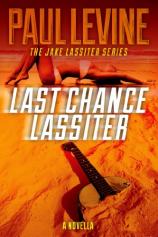 It's his recent production that is of most interest to Indies because he's gone this route himself and is doing so in a stellar style. My first read was Last Chance Lassiter, a new self-published ebook novella that's a sort of "prequel" or "origins issue" to the series that originally popped him onto the charts. Several of his titles now appear, either originally or reprinted on his own Nittany Valley imprint. Mainly, he's a very venturesome player of the freebie game. I've seen a dozen of his ebooks go free in the last six months. And it's working for him. That's what got me into his readership, to name but one.
Paul was very forthcoming when I asked him about tips, and has given lavish examples. Here's what he has to say:
Start strong.

It's always been important to hook the reader with a powerful first chapter. Now, with the popularity of free sample chapters on-line, a quick start is even more important. Many readers skim half-a-dozen samples, then just buy one book. How do I know? That's what I do!

So, what do I mean by a compelling start? How about this famous first line from James Crumley's The Last Good Kiss?

"When I finally caught up with Abraham Traherne, he was drinking beer with an alcoholic bulldog named Fireball Roberts in a ramshackle joint just outside of Sonoma, California, drinking the heart right out of a fine spring afternoon."

Crumley's opening has a musical rhythm and also establishes tone and subject matter. We just know there's a mystery – why is the narrator chasing Traherne? – and some quirkiness, too. A beer-drinking bulldog tells us that.

More first lines I admire:

"Death is my beat." – Poet by Michael Connelly. It doesn't get any pithier than that.

"I never knew her in life." – The Black Dahlia by James Ellroy. That's making it look easy, something Ellroy doesn't always do in his prose.

"When a fresh-faced guy in a Chevy offered him a lift, Parker told him to go to hell." – The Hunter by Richard Stark. Noir and then some.

Several opening lines of John D. MacDonald's Travis McGee series guarantee you'll keep reading:

"We were about to give up and call it a night when somebody dropped the girl off the bridge." – Darker than Amber

"There are no one hundred percent heroes." – Cinnamon Skin. That, by the way, is an excellent rule to follow when creating protagonists. Give them flaws. Make them real. Or at least, believable.

"After seven years of bickering and fussing, the Fort Lauderdamndale city fathers, on a hot Tuesday in late August, killed off a life style and turned me into a vagrant." – The Scarlet Ruse

Here are a couple of my opening lines, both of which set the tone for the books:

"'Forget it, Steve. I'm not having sex in the ocean.'" – The Deep Blue Alibi

"Judge Rollins drew a handgun from beneath his black robes, pointed the snub-nosed barrel at Jimmy Payne's chest, and said, "Who you pimping for, you low-life shyster?"– Illegal

In summary, start fast and strong. No warming up in the bullpen with a dozen pitches (or pages) before taking the mound. Be ready with your fast ball from the opening pitch.
Learn more  about author Paul Levine from Amazon author page and his website: http://www.paul-levine.com. His novel, Last Chance Lassiter is available from Amazon US and Amazon UK.