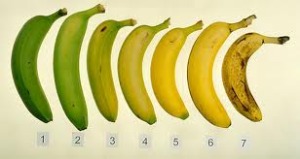 I'm at that awkward stage right now with my current work-in-progress: the first draft is done, and the first editing pass (the one where I make sure that, for example, the guy who I'm calling Robert in Chapter 2 hasn't become Bob – or Sam or Phil – when he shows up again in Chapter 12) is now complete, as well.
My instinct is to jump back in at the beginning and start Editing Pass Number Two. But I'm forcing myself to wait. I know from experience that the book needs time to sit quietly on my hard drive before I jump in again and start tearing it apart.
I like to call this process "ripening." Like fruit, cheese, or wine, a story needs time to mature. I do actually enjoy this stage, when I can tamp down my enthusiasm to get on with it, already, because this is when I get to think about the book at odd moments. This is when I examine whether I've made my characters' motivations clear to the reader. (For example: Why wouldn't the main character's best friend let her get away with an excuse in book 3 that the MC's boyfriend accepted in book 2?) This is also when I get to grin to myself when remembering a passage that was fun to write. (Nobody's moved away from me on the Metro when I do this. Yet.) And it's also when I start writing cryptic notes to myself on my phone. (Real-life example: "When does Quetzalcoatl show up?") The point is that my subconscious needs time to go over what I've done and make sure it all hangs together before I send the book off to my editor.
The problem is what to do with my conscious self while my subconscious is editing the book for me. Starting another writing project seems counter-productive; I'm afraid my subconscious will get sidetracked onto the shiny new project and delay thinking about the original WIP. Cleaning the house is a viable option, especially as the place probably got neglected during the several weeks I spent writing the first draft in a rush, but it's not a lot of fun.
Often, I'll knit. The motions are repetitive, the instructions are (usually) clear, and the math isn't too hard (although you'd be surprised how easily you can screw up while counting to two multiple times in a row). If the project has great swaths of an easy stitch – say, the torso of a stockinette-stitch sweater – it can even be a boon to my subconscious. The knitting becomes a sort of Zen exercise while my subconscious mulls over my story. And I get two things out of it – a decent book and something new to wear.
I'd love to hear how others handle this.