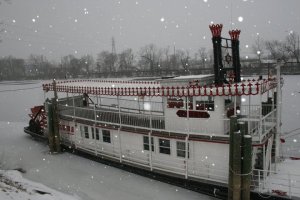 Luck comes in all varieties. Mostly, folks think of it as good luck or bad luck. The simple truth is, most of the time, people don't know the difference.
Getting a flat tire when you're already late for work might seem like bad luck, but it may have been the thing that kept you from getting T-boned at another intersection.
Sometimes, the things we think of as good luck really turn out not to be so good. It was that way for Jeff. He'd had a long run of good luck gone bad. He'd pretty much gotten everything he'd ever really wanted. It's just that it always turned out that what he wanted wasn't what he really needed.
Jeff was no gambler, but he felt he had no choice but to take the last little bit of his money and head to the riverboat. He didn't win at the tables that day, but what happened would change his life forever.
In 250 words or less, tell us a story incorporating the elements in the picture. The 250 word limit will be strictly enforced.
Please keep language and subject matter to a PG-13 level.
Use the comment section below to submit your entry. Entries will be accepted until 5:00 PM Pacific Daylight Time on Tuesday, October 16th 2012.
On Wednesday morning, we will open voting to the public with an online poll for the best writing entry accompanying the photo. Voting will be open until 5:00 PM Thursday.
On Friday morning, the winner will be recognized as we post the winning entry along with the picture as a feature. Best of luck to you all in your writing!
Entries only in the comment section. Other comments will be deleted.