As if we didn't have enough things to make us crazy, Amazon has come up with a new one—Amazon Author Rank. This is different from the "sales" rank for individual books on individual platforms. The new ranking combines all your books sold on Amazon—Kindle, hard-copy, and multiple titles.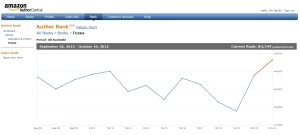 You can access this new ranking on your Author Central Page. A new tab, "Rank," appears right next to the old "Sales Info" tab. Click on that and you'll see how you rank from Amazon's perspective. As with anything Amazon, it changes hourly and with sweeping changes.
The email I received from Amazon on Wednesday started out like this …
Dear James Devitt,
Today we have added a new feature, Amazon Author Rank,
the definitive list of best-selling authors on Amazon.com. This list makes it easy for readers to discover the best-selling authors on Amazon.com overall and within a selection of major genres …
Then it went on to inform me that my rank in the TEENS category was #4269. I looked today (at the time of writing this post) and my rank in the TEENS category moved up to #3344 so I guess a bunch of teen writers stopped selling books so that my ranking could improve.
So, as with anything in the book selling world, this is just one more time waster to worry about—UNLESS you are in the top 100 and the public actually sees your name. Category rankings are much more powerful and visible. If you want to see how you can improve your visibility with rankings, check here.
For the public, you can now see the top 100 Authors on Amazon and the selected genres. So, if you're not in the top 100, better head over to your Author Central Page to see where you land.
My advice? Don't go too crazy worrying about this. It can get depressing. This is in Beta testing and if Amazon decides to add it to the sales page, it may give readers another option to analyze before buying. But, for now, you are the only one who can see your numbers, so I suppose that there is not much effect.
Now run along and look up your author rank so that you can get depressed with the other 499,900 authors who are not in the top 100 on Amazon.