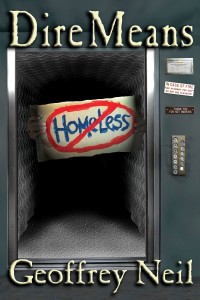 Dire Means
by Geoffrey Neil
Genre: Mystery Thriller
Word count: 128,238
Can Fear Breed Love?
What if a ruthless vigilante transformed one of America's most affluent, coveted beach-side cities and ended homelessness within its borders in a matter of days? In Dire Means this phenomenon occurs in an unforgettable way.
The ambitious mission isn't accomplished by any brilliant appeal to public benevolence or by relocating the homeless. An ingenious method uses carefully-targeted fear to cure public apathy toward the most helpless among us. Dire Means weaves a tale of a city under siege, its citizens forced to flaunt the Golden Rule as the only way to survive.
If you have ever contemplated the end of homelessness–despite the seeming futility of such a goal, or if you simply enjoy a story that will take you on an engrossing, original journey, crack open Dire Means.
This title is available from Amazon US and Amazon UK.
Geoffrey, how did you come up with the title for your book? Does it have any special meaning?
I wanted a title with a double meaning that reflected both the desperation felt by homeless people with no income and the extreme, unorthodox means used by the villain to end homelessness. The alternate meaning of "Mean" fit the story's title too.
Who was your favorite character and why?
Uncle Leon. I love old people and try to get wisdom from them whenever I can.
Does your book have any underlying theme, message, or moral?
Absolutely, though I intentionally avoided preaching. Sympathy, indifference and disgust for the homeless are all portrayed in various scenes without passing judgment on any viewpoint. Readers will see their own reaction in at least one scene. I often hear that Dire Means was not only exciting, but triggered introspection.
What would/could a reader or reviewer say about your writing that shows they "get" you as an author?
"The social metaphors and implications were as interesting as the plot twists." Getting that sort of feedback would flatter me. As far as craft, any comment about my having drawn vivid imagery with simple vocabulary shows that they've noticed my constant goal.
Give us an excerpted quote from your favorite review of this book:
"…It is not only the gripping story that is important here, but also how Neil's moving novel is imbued with disturbingly potent and candid truths…" Amazon Review by Norman Goldman
Where can people learn more about your writing?
My web page: www.geoffreyneil.com