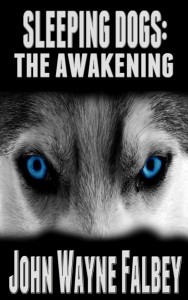 Today we have a sneak peek from author John Wayne Falbey's new techno-political thriller, Sleeping Dogs: The Awakening.
Nature's beta models of the next evolutionary leap forward in human beings were molded into the blackest of black ops units. It was dismantled and the men ordered terminated with extreme prejudice. Faking their own deaths, they went to ground for twenty years. Now they're being reunited to stop a foreign power from destroying the US from within. Someone let the Dogs out. This book works the same side of the street as Brad Thor and other modern thriller writers. Closely tracking the issues behind today's headlines, the plotline weaves cutting edge developments in technology, weaponry, and genetics research with the political intrigue occurring inside the Beltway today.
Sleeping Dogs: The Awakening is available from Amazon.com, Amazon UK, Kobo, Smashwords and Barnes & Noble.
Here is an excerpt from Sleeping Dogs: The Awakening:
Petro Petrovich paused on his rounds of Laski's estate. Moordenaar, his massive Boerboel, swiveled its big head on a thick neck, looked at Petrovich and barked once. A moment later the fireworks started on schedule. Petrovich marveled at how the animal had been able to sense it. Moordenaar looked up into the dark night sky and a low rumble began deep in his chest. Petrovich followed the dog's lead and looked up. He saw nothing at first. Then he thought he saw a small red flash, but it was only for a fraction of a second. Almost immediately, just as Moordenaar was about to let loose a loud series of barks signaling alarm, Petrovich heard a splatting sound. The huge beast fell dead at his feet, a hole in the top of his head oozing blood. More blood flowed from a much larger exit hole in its chest.
Petrovich snapped his head up and thought he saw another brief red flash. An instant later a hollow-point slug from a 220 grain Remington .300 Ultra Mag bullet tore through his forehead and blew out the back of his skull. Within seconds all four patrolling guards and their Boerboels lay dead. Death had come instantly from the inky sky above.
It was a relatively still summer night except for the fireworks display underway at a neighboring estate. Four dark colored parachutes drifted earthward. Two of them were larger tandem chutes. Whelan and Stensen were harnessed in one, with Whelan deploying the drogue chute. Because they had jumped from the chopper at low altitude, Whelan quickly deployed the main chute and maneuvered it through the descent to provide stability for Stensen. It was Stensen's job to take out two of the patrolling guards along with their dogs. Larsen maneuvered the other tandem chute and was harnessed to Thomas, whose job was to terminate the other two guards and their animals.
The two shooters, Stensen and Thomas, each used a Remington Model M24E1/XM2010 rifle equipped with an AN/PVS-22 Universal Night Sight mounted on a Picatinny rail along with an in-line 10×42 Leupold Ultra M3A telescopic sight. Their weapons were of the same type that Federov had used earlier that morning. The difference was that Stensen and Thomas were better shots.
As Whelan maneuvered the chute for maximum stability, he heard Stensen softly singing "The Ballad of the Green Berets".
"Fighting soldiers from the sky"
He knew Stensen was doing it out of sense of irony. That was Stensen.
"Fearless men who jump and die"
He nudged Stensen with his knee and the singing stopped.
Looking at the movement of the guards and their dogs on the ground below, he said, "What kind of dogs are those?"
"Big, ugly ones. And dead too." Stensen squeezed off his first round.
Almost instantly, one of the dogs slammed face first into the ground. Whelan was glad the dogs weren't German Shepherds. Other than wolves, they were the smartest animals he had ever seen. Smarter than most of the humans he knew. And more reliable.
---