Congratulations to Jerriann Law, the winner of our weekly Flash Fiction competition and thanks to everyone who participated – excellent entries!
The winning entry is rewarded with a special feature here today and a place in our collection of winners which will be published as an e-book at year end.
Without further ado, here's the winning entry: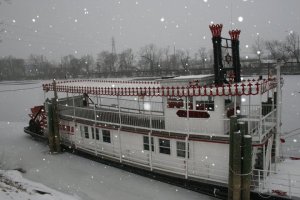 Lady Luck's Smile
by Jerriann Law

Jeff crossed the frozen Ohio River to the Louisville Riverboat. His stiff hands ached as he swung on board. "Change my luck, Lady."
Not a gambler, he knew one game for him. He entered the noisy, warm place, seeking his table. It sat dead center.
A huge pile of chips was in the middle of the table. The dealer said, "Sixty thousand Low-ball Pot goes to the high-low split, Deuce to Seven, Cards Speak Game. Everyone set?"
"I'm in," Jeff said, taking his place next to Tubby, Spectacles and Miss Kitty Gunsmoke, smiling enchantingly at him.
The dealer tossed cards. Players shielded theirs. Jeff's were a four and a two, but his third card flipped on the floor.
"House Rules; hand it back; you get another."
Jeff returned the Ace, hoping this wasn't his usual bad luck.
His new card was a seven. His next card was a three, followed by a five.
The others were confident. Miss Kitty purred.
"Players, reveal your hand."
Tubby's layout was: 8-7-5-4-2.
Spectacles' cards were: 8-5-4-3-2.
Miss Kitty's hand showed: 9-5-4-3-2.
Jeff's hand shook as he lay down his 7-5-4-3-2. He didn't have a clue.
The dealer announced, "Winners are Number One Nuts and Miss Nine Perfect; you split the pot. It's your lucky day."
"Who's the Nuts?" Jeff asked.
"Darling, it's you. I'm yours; in fact, let's tie the knot."
Tubby and Spectacles hooted, "Lucky dog!"
"Lady Luck, keep shining on me. Let's go, baby. This, I need."
"How fortunate!"