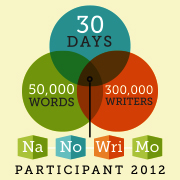 Okay, folks. You've heard your friends talking about this NaNoWriMo business. That it's supposed to be SO much fun. That this wicked awesome month-long writing exercise put on every November will rev up your creativity and caffeinate your muse or whatever else you call that clump of ganglia that drops words into your brain and out your typing fingers. Yeah. It's fun. I've done it five times. You watch the little thermometer fill up as your word count rises. You get scared and want to pump more stimulants into your body to keep up with your friends. They all seem to have cooler titles than yours, fleshed-out plot descriptions….heck, some of them even have PLOTS. And you, you pantser, all you have is an idea that came to you while you were out shopping for Halloween kiddie kibble. Urged on by all your writer friends on FaceTwit, you sign up. And then the panic starts. Fifty thousand words. Thirty days. You do the math. (Seriously, you do it. I hate math.) How the heck…? With a spouse? Kids? A job? And if you're American, with all the little frilly white things you need to make to go over the Thanksgiving turkey's feet? What's up with that, anyway? Decorating a dead carcass with lace garters? No wonder the rest of the world hates us.
What? Still want to do this, all for the glory of a rough first draft and a shiny badge to plunk on your website? Okay. Here are some NaNoWriMo survival tips that will help you get through this with your sanity mostly intact.
1. Provisions. Fill your secret underground bunker with your basic food groups: chocolate, coffee, canned goods, power snacks, and things that non-kitchen-oriented members of your family can make themselves. If you are in any way kitchen-oriented, think in bulk. Double and triple recipes of things that freeze and you won't mind eating nearly every day. Borrow a cauldron from your local witch and make ten or twenty gallons of soup or stew. On some crappy, rainy night in late November, when you're struggling just to coax your fingers into that curled position needed to hit keys, let alone get chapter seventeen to work out, you'll thank me for that hot bowl of comfort. Maybe by sending me a few gallons now.
2. Kids. They are so unreasonable, disturbing your writing time because they want to do things like eat and talk to you. Okay, I don't have any kids, but I've seen them around, you know, on TV and stuff. One thing I've learned from television is that simple commands work best. Like, "Go outside and play," and "Here's twenty bucks, scram." Live in a dicey neighborhood paved with broken glass and spent bullets? Don't have twenty bucks? Duct tape works, too. It's cheap, and it also removes warts.
3. Domestic partners. Now, come on. These are grown people with opposable thumbs, and they often have their own drivers' licenses and checking accounts. Surely, they can fend for themselves while you screw around on the NaNoWriMo forums and moan to your TwitFace friends that you're falling behind on your quota. But sometimes, they need subtle reminders that this creative exercise is important to you. So reinforce your perimeters. A moat is fine but messy, and the alligators and Madagascar hissing cockroaches frequently escape and pester your neighbors. A line in the sand can also work, if the sand is kept at a consistent temperature high enough to burn flesh. Maginot Line? Look how well that turned out for the French. That's why I turn to an easy, tried-and-true system of protecting my borders: the invisible dog fence. Run the wiring across the threshold of your writing room door. Then disassemble your dog's collar and sew the electronic mechanism into a discreet place on your partner's clothing. It's remarkable how quickly negative reinforcement can work. One or two good jolts usually do the trick. If you're lucky.
4. The day job. Seriously, you need this now, and for those who have one, be grateful. It may be the only time you get to rest your hands.
5. Housework. Unnecessary. Next.
6. Your health. I bet you expect me to say that silly things like sleep and exercise are overrated, that you can fall into your oh-so-sweet pillow top mattresses in December. Sorry. I'm not letting you get away with this one. A rested mind in a fit body is more efficient and creative. It's also craftier and can help you devise better ways to protect your precious writing time. Plus, getting sick in December totally sucks, and by then, all your soup and chocolate will be gone.
7. Americans, be thankful. After the Thanksgiving meal, most of your household will disappear to watch football games or take advantage of Black Friday bargains, leaving you alone with your precious baby novel. Enjoy.
(Note: No children, pets, spouses, or Madagascar hissing cockroaches were harmed in the making of this post.)