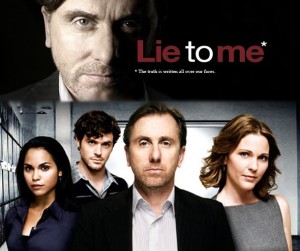 My husband found the DVD box set of one of my favourite TV shows the other day. All three seasons! I was a pretty happy lady. We've been watching an episode or two each night and I'm loving it just as much the second time around.
Do you want to know what it is?
Lie To Me.
It stars a British actor – Tim Roth. He plays the role of a human lie detector. His official title is Deception Specialist, but basically he can read people's micro-expressions and tell what someone is really feeling, whether they're holding something back or are afraid or guilty or ashamed or disgusted – he can see it all when most normal people wouldn't even notice. The show is based on research conducted by Dr. Paul Ekman, a clinical psychologist, author and manager of the Paul Ekman group – a small company that produces training devices relevant to emotional skills, and is initiating new research relevant to national security and law enforcement. (link: http://www.paulekman.com/)… and then of course Hollywood added some sugar and spice.
Personally, I think anyone who writes fiction should watch this show and here's why…
Most of the characters we write about have secrets. They have to, otherwise the story would be super boring and predictable! We are trying to entice our readers to turn the page by creating question marks and running small mysteries throughout the story. As I said in a previous post (link: https://indiesunlimited.com/2012/08/22/following-the-cookie-crumbs/), we're leaving cookie crumbs for them to follow.
We don't want to bog our readers down with copious amounts of description or go into their heads too much. A character might be saying one thing, but thinking something else. How do we portray that to our audience in a subtle way?
Through their actions.
How are they standing? What are they doing with their hands? Where are they looking? What are they really thinking?
Sometimes you don't want to be overly obvious about this, remember – it's all about the mystery. But you also need to leave a few cookie crumbs.
So how cool would it be to add micro-expressions to your repotoire? During a conversation between two characters one of them might swallow – a sign of nervousness. Or as a character is observing something their eyebrows might draw together tightly – a sign of anger. You can even use the tone a character is speaking with or a clever selection of words that will mask what they truly feel.
Now – I'm sure many of you include micro-expressions in your writing without even realizing, but sometimes it's good to be reminded of these things. It may open doors to touching on emotions in a way you haven't tried before. I know my characters shake their heads way too much… or shrug their shoulders. I'm looking forward to applying what I've learnt from this show to add a little something new to my next manuscript.
Here's a blog post that has pictures showing some of the most common micro-expressions.
Link: http://www.persuasive.net/it-is-written-all-over-your-face-understanding-facial-expressions
I've also just discovered a book that I immediately purchased called, "The Emotion Thesaurus: A Writer's Guide To Character Expression" by Angela Ackerman and Becca Puglisi. (Link: http://www.amazon.com/Emotion-Thesaurus-Writers-Character-Expression/dp/1475004958/ref=sr_1_1?s=books&ie=UTF8&qid=1350275580&sr=1-1&keywords=Emotion+Thesaurus) The mail can't come fast enough as I anxiously wait to peel it open and pull out my highlighter.
Resources like the ones I've mentioned are gold. We spend our lives expressing ourselves through actions and words. As writers we need to make sure we understand human behaviour and emotion so we can reflect it in a realistic, yet powerful way.
If you do ever get your hands on the TV show, I hope you enjoy it as much as I did.