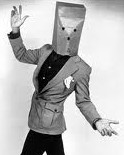 If you have just published your first novel, congratulations to you. For now, you can bask in the warm afterglow of having accomplished something you may have always wanted to do. Enjoy. You should probably stop reading this now.
There will come a time when you will look back on your first book with the shame of accomplishment. You will be sick of that book. You will be tired of talking about it, promoting it, reading from it, plugging it, writing about it, answering questions about it, even reading reviews of it.
Worse yet, you will have grown as an author and you will have so much more skill, and finesse, so many more tools than when you penned that first book. You'll see things you did in that book that will make you wince. You may occasionally regret having used your own name when you published it. You may even be thinking about changing your name now just to get out from under it.
Your first book is out there on Amazon, smiling stupidly at you. Remember when you made out that time under the bleachers with whoever it was, and maybe you were a little drunk and really regretted it, then you see them years later at a class reunion and they're telling everyone the story about how you two made out? It's like that.
Congratulations. Now you are a real author. If you have experienced this, you are normal—well, as normal as you can be and still be an author. I'm not just relating my own experience here. I know some other authors who feel the same way about their first efforts.
K.S. Brooks has published something like ten books. She says, "Taking pride in your first book is like placing that little plastic trophy you won when you got your yellow belt up on the mantle with your Oscars."
Okay, well maybe not everybody can relate to the Oscar thing, but I think the message is clear. She's not crazy about her first book anymore and she says it happened almost right away. She wants to burn it, stab it, shoot it, then burn it again. Her first book is still out there and still getting five-star reviews.
It's the same for me. My first novel got really good reviews and still does. It didn't become an international best-seller, but most of the people who read it really seemed to enjoy it. I am personally sick of it. I can't look at it now without thinking of all the things I'd do differently.
I wouldn't go so far as to say that every author experiences this. There may be some rare few whose skill was so honed, so fine-tuned, that by the time they put pen to paper on their first book, they were able to render a tome that set the bar for their future performance. I don't want to mention any names here (McNally), but I think these people (Cantwell) are probably (Berkom) the exception.
Most of us will learn a lot as we go. So, I feel good about feeling bad about my first book. How do you feel about yours?