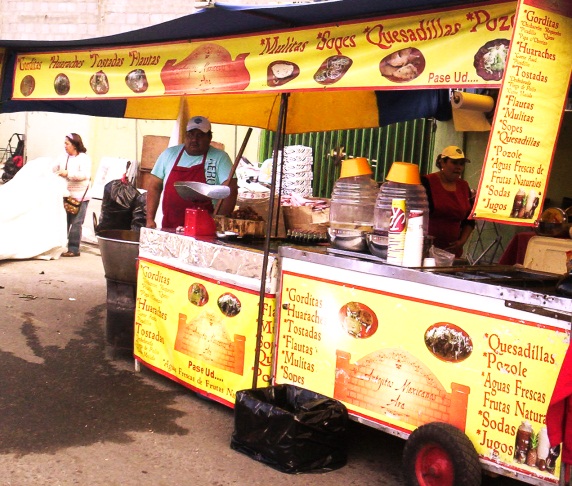 Five days a week I walk through empty, walled streets from my house in Tijuana to a coffee shop where I can drink bottomless coffee and write with no goddam Internet. Except on Fridays. On Fridays the walk is through a teeming shopping district, a market village that sprawls over eight square blocks. Call it a sobruelas, tianguis, flea market, jumble sale, or whatever, it is for a half a day one of the hottest places to buy and sell in the third largest city in Mexico.
If you're picturing a bunch of tables full of old clothes and garage sale junk, let me expand your vision. There are plenty of big produce stands and racks of used clothing, but it's a huge part of international commerce: many vendors making trips to the USA to acquire things that cost nothing there but are hard to find in Mexico. But also… I get all my sewing done at a tailor shop there: a nice lady who has a sewing machine under her tarp and can alter anything from a hottie's hoodie to a fake Armani in an hour for a couple of bucks. There are pet stores, a couple of barber shops, furniture stores, child care, bookstores, music stores, art stores, computer stores, peanut roasters, a bakery, skateboard sales and repairs. A lot of restaurants, some with strolling musicians to entertain the people who might have come just for the great birria this one place serves. I grabbed a sandwich today in a place that has four large stainless steel tables set up, in addition to all the seating for fifty customers. One table has a charcoal pit roasting pork gyros and carne asada, one has a pizza oven, one has a double sink with running water. By five o'clock, it will all be gone and the thriving market will be bare streets and sidewalks with all the trash swept up. This might seem a little exotic to Americans, but in the third world as much product and food is sold on sidewalks as inside structures.
You are asking yourselves: So what? Fair enough. Skip the travelogue and let's look at market economics. It is, after all, a market I've been describing.
And a fairly up-market. The vendors drive late-model American vans and RVs. They dress well and their children are plump, clean, and happy. They are doing just fine.
But if they kept any books, you could quickly compare them to the gross income of department stores downtown, or Gap stores in Plaza Rio mall, or storefronts on Blvd. Revolución, and write them off as non-entities. I'm thinking you're catching my drift.
The parallel between the Friday market and indie writers is, I believe, a powerful one. There are many who will tell you that all publishing is "a business, an entrepreneurship." And generally footnote it with "and therefore, you need to invest in it, and guess where you should ship that money?" In point of fact, most people write–and subsequently publish–as self-expression, an urge to share and gather approval, a quest for admiration and love and belonging. As with any activity from violin to football to painting, the desire to get pleasure from playing the game comes long before the desire to cash in on it. For most.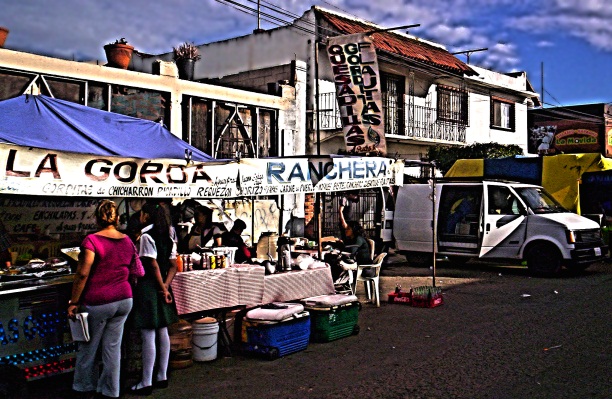 But for writers who are seeking profit, or merely the wider appreciation that comes from wider sales, the market rears its lipsticked head. So let's take a look at indie retailers: people who set up a store in a different barrio every day, then break it down and go home. What advantages do they have over the stores that report so much more income?
–They don't pay rent. It might be a hassle to unload a restaurant out of a truck and set it up, then break it down, but it's time well spent when you price it out per hour against what a day's rent would cost in an area with similar foot traffic. And on Sundays or sick days or rain days, you aren't paying rent on an empty store. Writers don't pay rent, of course… or do we? Isn't that kind of what it is to have a book on xLibris or AuthorHouse or any other online store that charges a fee or takes a big cut? Is it that far-fetched to see the tiny royalties from big publishers as a sort of negative-sum rental? How about the money publishers pay to bookstores for placement on front tables?
–They have no real overhead. They aren't paying to have their windows washed. Or their roof fixed, or to replace bulbs in their neon signs. This is essential smart indie stuff. And, I think, helps illuminate the line between the "traditional" and "indie/SP" publishing approaches. You see writers "on the street" spending money to try to look like downtown "stores." You know what I mean, have seen writers laying out thousands of dollars to sell a hundred bucks worth of books or less. The Friday market folks are happy to be paying for rent and groceries and baby shoes–and not to have to be paying corporate profits on a mall, striving to meet the nut in a plaza, supporting political mafias, chipping in to the city fathers, coping with the pedestrian drop-off that has put 60% of the stores on Revolución out of business in the last three years.
–They are going where the market is. This is the most important factor here, and what inspired me to write this. You can wander around town hawking your goods if you want. No rent, no license, just a bunch of suspicious Rolexes pinned inside your overcoat. Or you could pay hundreds of dollars a day to rent a store on a mall or busy street. Or, you can just come in and set up on a street milling with customers.
Easy call, you're saying–now where is that street full of avid readers with money crawling out of their pockets? And I hate to bum you out, but I can't tell you. You are looking for it, yourself. And seeing some of the same answers everybody does.
Amazon, obviously. It's more like a mall, except it's also like a weekend market in that flash crowds develop. This is the purpose of "events" and "blog tours" and "Freebie Fridays" and contests and giveaways: to generate that one day or morning when a bunch of people are strolling down a street in front of you with an eye to be entertained and to buy.
Goodreads, certainly, though it's trickier to work. Perhaps certain groups there–or groups on Facebook or LinkedIn. Places where the milling crowd are not writers but READERS. It's possible to create them yourself. Maybe you've seen a lunch truck that has been pulling into a lot at noon every day for years. People leave their work and head over there to eat. Would be a good place to show up with an ice-cream truck or espresso van. And I think you've seen online areas or events where writers have teamed up to bring people by. This is truer for audio and online writers, who have "streets" like MobileReads and Podio where people cruise for reads, but it applies to everybody selling anything. Your "street" might be a site devoted to paramedics, travel in Italy, home-schooling, Mormonism, gun nuts, perverts.
The idea here isn't, Hey, here's how you can go sell a bunch more books! It's more like, here's a legitimate model of something workable on its own terms. These sellers don't feel like they've failed at having a nice front window somewhere, and wouldn't trade places. They didn't give up on having a Banana Republic or Burger King franchise and settle for less; they moved up to where they are from selling to neighbors out of their front room or side window.
–They don't think the same, they don't do the same things or want the same things. They're flexible: if Fridays in El Soler aren't paying off for them, maybe they'll skip it and start doing Tuesdays in Los Altos.
–They work customers, not demographics. The gentle balance between approaching a passer-by (should I call it "discoverability"?) but not alienating him with hustle is something they learn and apply instance by instance. Some ignore browsers, some stand in the street with boomboxes and bullhorns. It all works.
–They have appropriate expectations. Some sellers are there because they live there: it's their house the sidewalk is in front of and it's easy to open their front gate and pile a bunch of appliances for sale in their carport. They have a "platform" and it's all gravy. Or maybe there's some old gal with a blanket on the sidewalk with a scatter of weird junk on it. She's not going to get rich but doesn't care because it's not costing her anything to sit there and it's more interesting than being in the house with her snippy grandkids or watching stupid telenovelas. You've seen the indie author equivalent. And the thing is, they can't lose.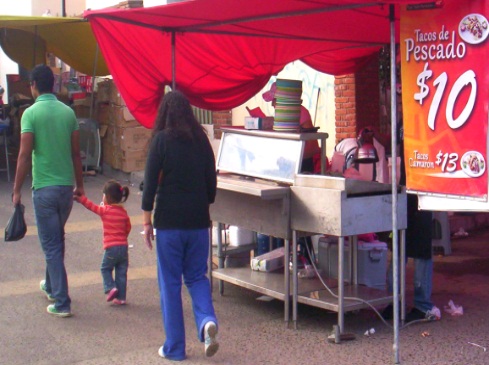 –They have their own community. And it's nothing like the Chamber of Commerce or Downtown Association. It's ad hoc, fluid, and mutually understood. Nobody tells anybody the way to do things, but if they see a cool way that guy managed to have running water on the sidewalk, they'll copy it if it makes sense. In a way they all compete for every peso in every wallet being toted down that street, but at a much deeper level, they are a co-op, symbionts. If the rest of them weren't there, the customers wouldn't be there either.
I hope this isn't too far-fetched. Maybe you can share what I see as a living model that speaks more usefully to what you are trying to do than the several cut-down models we get offered or the various dichotomies (trad vs. SP, vanity vs. subsidy, professional vs. dilettante) that are so often presented with. The indie publishing life isn't a multi-national network presentation, my friends, it's a cabaret.