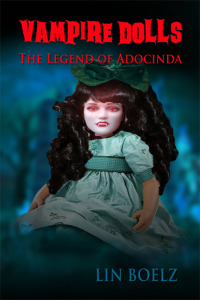 Author Lin Boelz is pleased to announce the release of his new horror novel: Vampire Dolls.
Everyone knows vampires cannot enter your home unless you invite them. But dolls are welcome in any home. A lone vampire hunter witnesses an ancient ritual that moves the evil spirit of a murdered vampire, into a Victorian doll.
Adocinda, spurred on by her drive to subjugate humans and rebuild her vampire clan, now inhabits a new body. No one suspects the evil within the beautiful doll.
Alden fears he knows the truth, but even the hunters do not believe what he tells them. By the time they realize the truth, it could be too late.
Vampire Dolls was released on October 11, 2012 and is available through Amazon.com, Amazon UK, and Smashwords. 
---