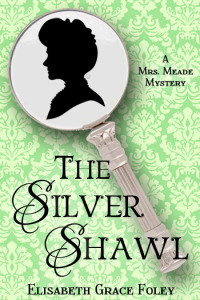 Author Elisabeth Grace Foley is pleased to announce the release of her new historical mystery novelette: The Silver Shawl.
In a small town in turn-of-the-century Colorado, a young woman has disappeared from the boarding-house where she lives. Her distraught fiancé is certain that she must have been kidnapped. But the case takes a new turn when a city detective appears on the scene, looking for a woman who matches the description of the missing girl. Was Charity really kidnapped, or did she have a reason to flee? Mrs. Meade, a gentle but shrewd widow lady who lives across the hall in the boarding-house, feels that there is something wrong with the story of Charity's disappearance…but can she unravel the mystery before it is too late?
The Silver Shawl was released on October 6, 2012 and is available from Amazon US, Amazon UK, Barnes and Noble and Smashwords.