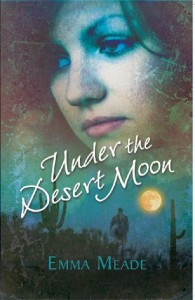 Author Emma Meade is pleased to announce the release of her new paranormal novel: Under the Desert Moon.
Seventeen-year-old Erin Harris spends her time daydreaming, hoping to escape her small town life in Copperfield, Arizona. When a movie crew arrives unexpectedly to shoot a vampire film over the summer, Erin's small town world changes forever. Erin is positive she has seen the star, James Linkin before in a thirty year old TV show. He hasn't aged a day. How is this possible? Erin is determined to find out, but how will James handle the scrutiny of an all too intelligent teenage girl?
"This was a fantastic read, and I recommend it to anyone who wants to read a new vampire novel where the relationship is just a tad more believable, and the vampire is likewise." – Author Miranda Stork
Under the Desert Moon was published by by Soul Fire Press and became available during September 2012 from Amazon US, Amazon UK, and Barnes and Noble.
---