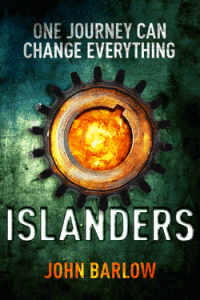 Author John Barlow is pleased to announce the release of his new young adult action-adventure novel: ISLANDERS.
ISLANDERS is a full-length novel for mid-graders and young adults. Set in a post-war dystopia, it follows thirteen-year-old Ben Brewer as he goes in search of his dad.
Thirteen years ago the Mainland was torn apart by war and contaminated by biological weapons. Ben's parents–leaders of the Resistance–moved all their friends and comrades to the safety of an island. Then his dad went back, never to return.
When news arrives that Ben's dad might not be dead, Ben sets out on a journey through a mutant-infested industrial wasteland to find him.
"5/5 Stars. I spent all day reading this book and didn't get bored once! It is full of adventure and gets crazy at the end!" – Courtney Bauman at BaumanBookReviews
Islanders was released on November 16th, 2012 by Storm Books and is available through Amazon.com, Amazon UK and Smashwords.