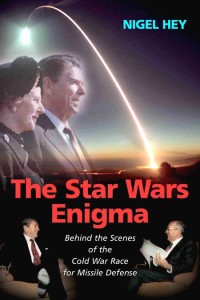 Today we have a sneak peek from author Nigel Hey's book: The Star Wars Enigma: Behind the Scenes of the Cold War Race for Missile Defense.
After 40 years of East-West nuclear standoff, President Ronald Reagan created the program he called the Strategic Defense Initiative, nicknamed Star Wars. This book contains a wealth of information about Soviet, as well as American, efforts to rule the skies with exotic new defensive weaponry. Personal interviews with American, Soviet, and British experts provided thousands of words of previously unpublished material upon this pivotal gambit in the Cold War stakes. The Star Wars Enigma traces the origin, the proponents and opponents, and the drama that accompanied the downfall of Soviet defense strategy and ended the threat of East-West nuclear holocaust.
The Star Wars Enigma is available from Amazon US, Amazon UK and Barnes & Noble.
And now, an excerpt from The Star Wars Enigma… Continue reading "Sneak Peek: The Star Wars Enigma"