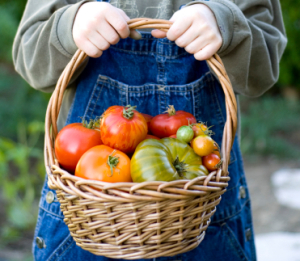 You may have seen social media flutterings about AuthorsDB, a website that lets you enroll your books and/or your writing services in their free database and get…(sigh) free exposure. Yes, for free. Totally free. What's the catch? Glad you asked. Well, there isn't really much of one that I could see, even after employing Rich Meyer's due diligence procedures. The philosophy of the site, however, reminds me of my local food coop, where you get a discount equal to what you choose to put in: slicing cheese, tagging tomatoes, putting up flyers all over town, or working the cash register.
No bagging raisins here, but the folks at authorsDB only ask that you join the community and help spread the word. Because it's good karma to help fellow authors, yes? So they ask you to blog about authorsDB, tell your friends about them, and drive traffic to your profile page. Obviously, the more you spread the word, the more hits your listings will get [and more eyeballs on the site for them], which makes you eligible for random drawings for extra social media promotion and shiny things like "featured author" banners and such. We like shiny things. Because, you know, they're shiny. And you can brag to your friends and potential readers about them. Which gets more hits to your profile. And so on, and so on, and so on.
They can offer this Internet real estate for free because of what they call their "angel investors."
According to one of these investors, as taken from authorDB's website:
"There are very few places where authors are able to add their information, one time, including promoting links to buy their books on all bookseller platforms. A place where authors continue to write while expert SEO people can assist in Social Media Marketing for free.  Authors need an unbiased place to shout out about their creative works without 'big brother's' control—without fear of loosing [sic] to unknown algorithms." 
-Angel Investor-
As promised, they do push your listing to Google fairly quickly and let you (and your social media followers) know about it. Just a few hours after I listed my author profile and my editor profile, they Tweeted about it. Here's an example of what they sent:
@LaurieBoris got indexed in Google because of #1AdB http://authorsdb.com/authors-directory/1122-laurie-boris …
Okay, it's not exactly professional Tweet-crafting, but it's there, and it's another mention of your name.
And while it's lovely of their "angel investors" to give authors a place to park and grow a community (if you're willing to do the equivalent of bag your own groceries and divide the giant sacks of brown rice into handy one-pound packages), the concept stirred up some questions for me.
If exposure—any exposure—is free, is it necessarily good or effective? My Amazon author page, Goodreads profile, Ganxy pages, and BookDaily listings were also free, and similar information about my work and me is available on all of them. Random views may happen, but I still have to make some attempt to drive potential readers to them through social media and whatnot.
Even though authorsDB boasts of more than 1395 registered members as of April 11, 2013, and the owners seem enthusiastic and helpful, what does this site do for me that others may not? Well…as our KS Brooks informs us, a marketing rule of thumb is that it takes seven exposures to the name of a product or service for the average person to remember it. Don't know exactly how many it requires to take action on that awareness, but having someone remember your book or your name is a very good start. Your authorsDB listing can add to that tipping point and could give you another place to point your readers and potential readers when they might be less-than-interested in hearing once more about your Amazon page, your Goodreads profile, and wherever else you're listed.
Want to join? It's not terribly hard, although the interface can look a little puzzling at first [and a couple of typos bugged me]. But after puttering around a bit, I figured it out. After you register for your account, click "submit a listing" on the left-hand navigation bar. Fill in your titles, descriptions, reviews, sales links, social media links, and media like cover art and videos. After you're approved, start sharing.
I'm still deciding whether authorsDB will end up being an effective use of time and resources, or just another parking lot. But free exposure, as long as I'm in a nice frame, is still pretty attractive.