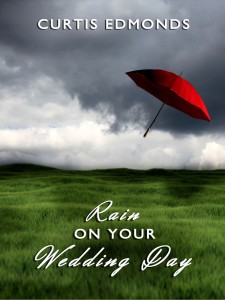 Today we have a sneak peek from the literary fiction book by Curtis Edmonds, Rain on Your Wedding Day.
Will Morse lives alone in a remote cabin in the mountains north of Atlanta, grieving over the loss of two of his daughters and the collapse of his marriage and career.
Over Christmas, Will receives a visit from his only remaining child, his daughter Alicia, who broke off contact with him five years ago. Alicia informs Will that she's getting married in the spring, and asks him to attend the wedding.
As the wedding nears, Will must find a way to put the pain and guilt he feels Trixie's death behind him and pull himself together for his daughter's sake.
Rain on Your Wedding Day is available through Amazon.com and Amazon UK.
Here is an excerpt from Rain on Your Wedding Day… Continue reading "Sneak Peek: Rain on Your Wedding Day"