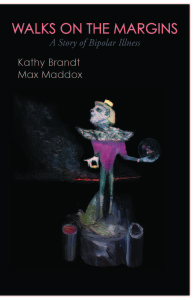 Today we have a sneak peek from the memoir by Kathy Brandt and Max Maddox, Walks on the Margins.
In Walks on the Margins, mother and son weave two narratives into a single powerful story of what it means to suffer from mental illness. Max takes readers into the abyss of mania, psychosis, and depression as Kathy narrates her struggle to help her son in a world beset by institutional failure. Each day they confront the unknowns of their lives as they maneuver a twisted path to recovery. A finalist for the Iowa Review Award in Nonfiction, Walks on the Margins is a fiercely candid story about the emotional turmoil and confusion of those who struggle with bipolar disorder.
Walks on the Margins is available through Amazon.com and Amazon UK.
Here is an excerpt from Walks on the Margins… Continue reading "Sneak Peek: Walks on the Margins"