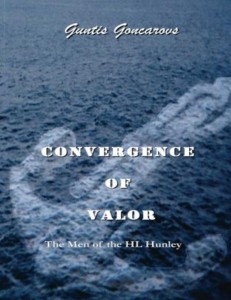 Today we have a sneak peek from author Guntis Goncarovs' historical fiction novel, Convergence of Valor.
The Federal blockade was strangling Charleston into submission. The Confederacy was struggling to maintain existence. General Pierre T. Beauregard listened as President Jefferson Davis promised the people of Charleston they would never fall. On the Cooper River dock sat Beauregard's only hope to meet Davis' promise — a submarine that had already taken thirteen sailors to a watery grave. He needed to find eight more brave men to take the vessel on one more suicide mission. Convergence of Valor is the story of how the lives of those eight brave men converged in Charleston and marked history on the night of February 17, 1864.
Convergence of Valor is available through Amazon.com, Barnes & Noble, Smashwords, and Amazon UK.
Here is an excerpt from Convergence of Valor… Continue reading "Sneak Peek: Convergence of Valor"