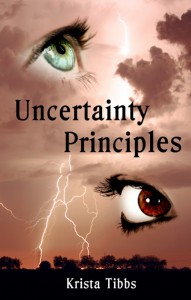 Today we have a sneak peek from author Krista Tibbs' new literary fiction title, Uncertainty Principles.
Nine years ago, five college students conceived a way to use atmospheric energy to predict mass acts of human violence. A tragic event ended the project, and team leaders Brian and Aiyana haven't spoken since. But when Brian's covert research predicts a threat to their heartland town of Freedom, the team reunites under a cloud of mutual contempt and buried affections. Long-held secrets are exposed as the teammates challenge each other's philosophies and struggle to cope with their inner fears. The urgency rises with each new piece of data, but every potential solution is fraught with doubt and consequences.
Uncertainty Principles is available through Amazon.com, Smashwords, Barnes & Noble, and Amazon UK.
Here is an excerpt from Uncertainty Principles… Continue reading "Sneak Peek: Uncertainty Principles"