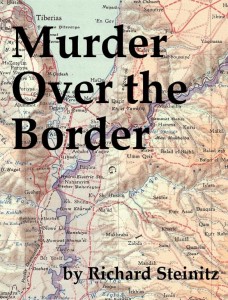 Today we have a sneak peek from the mystery/thriller by Richard Steinitz: Murder Over the Border.
Israeli policeman Yossi Abulafia is on army reserve duty, watching military movements on the other side of the Jordanian border. Through his telescope, he witnesses what appears to be a murder – in Jordan. While seeing this crime take place, his lookout post collapses and he is seriously injured – enough so that he is invalided out.
Taking a new job in the Prime Minister's office, he gets sucked into the Oslo Peace Process, and uses his position to try to find the killer from over the border. Who is the 'shooter' and how is he connected to Yossi?
Murder Over the Border is available from Amazon.com and Amazon UK.
Here is an excerpt from Murder Over the Border…